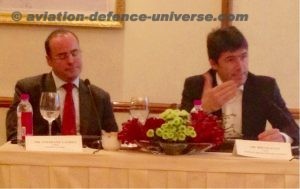 By Brig. VK Atray
New Delhi. 21 February 2018. A Safran-powered helicopter takes off every 9 seconds somewhere in the world and Indian skies are popular flying zones for Safran helicopter engines as India's armed forces are one of the largest operators of  these  engines. 1,000 Safran rotor craft engines delivered for Indian market  and 350 units jointly produced by HAL and Safran in India – this is a  60-year relationship & still going strong.
Bruno Even, the CEO Safran Helicopter Engines on which turned out to be his last trip to India in the capacity, as he is all set to join Airbus Helicopters as its CEO, was confident that this long relationship will  develop with  focus on the 'Make in India' programme. " Safran Helicopter Engines India based in Bangalore, is fully dedicated to supporting our Indian partner and customer HAL (Hindustan Aeronautics Limited) as well as the Indian Armed Forces and Coast Guard. Safran has been a supplier to the Indian armed forces since the Fifties and at present we are the leading supplier of turbine engines for helicopters deployed by the Indian Army," he stated.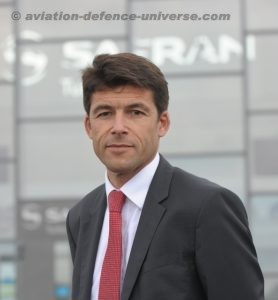 He was here to be a part of the Safran's New Delhi Operator's Symposium and oversee the commencement of the civil works for the Helicopter Engine MRO in Goa. In India, Safran is a full-fledged partner in the development of the Indian air transport sector, mainly as a supplier of engines, equipment and support services for both airplanes and helicopters. "Our strategy has four pillars. The first pillar is to diversify our customer portfolio. The second is to be preferred partner in growth countries. In particular, we have in mind India. The third pillar is built around innovation. The fourth pillar is around customer relationship. Clearly, the customer is at the core of our strategy and HAL is most important for us,"  expanded Even on being asked about his strategy for developing the Indian market.
He informed that the  Goa based Safran-HAL joint venture MRO will have  three maintenance centres , one each in in Bengaluru, Pathankot and Misamari for level 3 maintenance of the helicopters. The field maintenance centres will become operational in 2018 and the Goa facility will be ready by 2019. TM333 engines fitted on Advanced Light Helicopters (ALH) Dhruv and Cheetal helicopters and Shakti engines fitted on ALH Dhruv and Light Combat Helicopter (LCH) as well as the Light Utility Helicopter (LUH) will  all be able to undergo  complete maintenance, repair and overhaul in the facility. Bruno Even said, "HE-MRO marks a new step in the long-lasting and fruitful partnership between Safran and HAL. We are extremely proud of the continued confidence placed in us by HAL. Together we are committed to delivering world-class support to our customers, both in India and throughout the region."
Safran globally is a  manufacturer of gas turbine engines for both civil and military helicopters. They design, produce, sell and support a complete range of turbine engines for this market. More than 18,000 Safran Helicopter engines already power helicopters built by the world's leading manufacturers: Airbus Helicopters, AVIC, Sikorsky, Bell Helicopter, Finmeccanica Helicopters (formerly AgustaWestland), Denel, Russian Helicopters, HAL, Boeing, etc. In the military sector, Safran powers the Tiger, NH90, Finmeccanica Helicopters A109 Power, AW101 and many others. Helicopters powered by Safran are deployed by 2,500 customers in 150 countries.