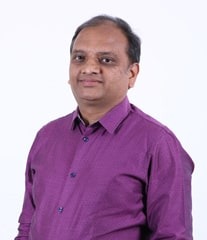 New Delhi. 31 July 2020. "Saankhya Labs has designed and developed a wide range of secure and reliable communication systems for the Indian Army. All the solutions offered by Saankhya Labs are Indigenously Designed, Developed and Manufactured (IDDM) with intellectual property rights residing in India," elaborated Vivek Kimbahune, EVP, Sales and Business Development, Saankhya Labs in an exclusive interview to Aviation & Defence Universe (ADU).
ADU. Which are the products Saankhya Labs has designed and manufactured for Indian Army?
VK. Saankhya's product portfolio comprises of terrestrial and satellite communication solutions, all powered by its award-winning SDR chipsets. The chipsets are a family of low-power, small foot, Application Specific Signal Processors, designed to support a broad range of narrow and wide band communication systems with over 30 variety of waveforms implemented on them. Thanks to its advanced computational and programming capabilities, Saankhya has realized a host of solutions leveraging on its extensive expertise in SDR communication. The solutions can be broadly classified into Terrestrial Communication and Satellite Communication.
ADU. Can you enumerate the Terrestrial Communication solutions?
VK. Yes absolutely. Navsampark solution is an indigenously developed end-to-end wireless communication solution which consists of Shaurya Base Station Radio and Jayant CPE Radio. The system delivers reliable, scalable, secure and long-range wireless connectivity and coverage in tactical battlefield areas, deserts, rural and semi urban environments. The On-The-Halt (OTH) connectivity is provided over a UHF band. The radios support both Line of Sight (LoS) and Non Line of Sight (NLoS) operations. Navsampark can work in both Point to Point (P2P) and Point to Multi Point (P2MP) topologies. They can communicate across a range of up to 20 KMs and provide high-speed data connectivity up to 24 Mbps.
Then we also have the Navsampark Radios can be used for wireless surveillance and perimeter security when used in a Point to Multi Point (P2MP) configuration. Infrared detectors, motion sensors and cameras are installed in the perimeter areas. The data from these sensors is transmitted to a central command via the Navsampark solution over a secure UHF band.
Saankhya Labs in partnership with a large System Integrator has bid for Army's SDR RFI. The Manpack SDR is indigenously designed, developed, and manufactured offering highest levels of security. The SDR supports voice, audio, video, and data and location services.
ADU. Which are the Satellite Communication solutions you make?
VK. Saankhya Labs is a strategic technology partner of ISRO for MSS Systems. In collaboration with ISRO, Saankhya has designed and developed a host of satellite communication systems to support Voice, Short Messaging, Location reporting and broadcast reception services. Saankhya Labs has extensive expertise to deliver and operationalize end-to-end communication systems, including Hub-baseband and terminals.
SAMRAT is a two-way S-Band Satellite Mobile Radio Terminal (Satphone), supporting voice, data, short messaging and geolocation services. It is a Satsleeve that is designed to fit as an add-on to any 5.5″ Android phone, converting it to a Satphone. It operates via a user-friendly app, leveraging the phone's display, keypad, mic/speaker and GPS. Compact and lightweight, SAMRAT is a low power consumption device. It provides a highly secure mode of communication and offers excellent redundancy in no mobile network coverage areas.
NAVRAKSHA is a portable, two-way satellite communication terminal to enable real time tracking, and monitoring of fixed and mobile assets. Designed to operate on ISRO's Geo-Stationary S-Band Satellite, NAVRAKSHA enhances situational awareness and assists in better mission co-ordination by offering two-way communication capabilities with back end operational analytics. It comprises of S-band modem, a NAVIC/ GPS receiver, Wi-Fi/Bluetooth module, Antenna and Battery all housed inside a ruggedized casing providing excellent environmental protection. Light in weight and compact in size, the S-Band Mobile Satellite Service (MSS) terminal can be securely mounted on a circular pole or a flat surface with the integrated antenna facing the sky.
NAVRAKSHA can operate in a satellite hotspot mode or standalone mode. In the satellite hotspot mode, the MSS terminal connects to a host device such as a mobile smartphone or laptop PC over Wi-Fi/Bluetooth. An application on the host system authorised to connect to the MSS terminal wirelessly, enables transmission and reception of data from the command and control station via the MSS Satellite link. In the standalone mode, the MSS terminal sends location information on a periodic basis at pre-determined intervals to the command and control station. For exigencies, NAVRAKSHA also provides an option for SoS feature with a separate add on accessory. Powered by Saankhya's award-winning SDR chipsets and extensive expertise in MSS field deployments, NAVRASKHA is indigenously designed, developed, and manufactured (IDDM) by Saankhya Labs.
We also have the Lehar which is a portable, USB powered , handheld S-Band, DVB-S broadcast receiver. It can be connected to any host system such as a smartphone or, PC/Laptop. It supports audio, video and data reception. Lehar has an inbuilt patch antenna which receives ISRO's GSAT broadcast signal over S-band. An application installed on the host system decodes the transmitted content and displays it on the device.
TARANG is the industry's first Multi-Channel, Multi-Standard Burst Demodulator system designed and developed using SDR baseband chipsets. The fully programmable hub-side equipment supports a variety of waveforms by way of software change. Available in 3RU form factor, TARANG supports 4 – 48 channels in a single chassis. Easy to set up and configure, TARANG enables seamless connectivity to NMS.
ADU. Do you have solutions for Indian Navy?
VK. Saankhya Labs has developed NAVDOOT, a satellite-based vessel tracking solution that can be used by the Indian Navy. NAVDOOT is a two-way Mobile Satellite Service Terminal designed to operate as a satellite-based vessel tracking system to augment coastal security. The IP67 compliant terminal provides excellent water and dust protection in a harsh marine environment.
It allows better co-ordination between the Indian Navy, Coast Guard, the fisheries department, and the fishermen in deep sea. NAVDOOT enables the Indian Navy and the maritime security agencies to track and monitor fishing vessels in Indian coastal waters and along the international maritime boundary. It will also offer an accurate assessment of traffic and assist the multi-layer security apparatus to identify and distinguish unregistered boats, a key requirement in assessment of 'friend or foe' in deep sea.
ADU. Are there communications systems you have exclusively for the Indian Air Force?
VK. No, at present Saankhya does not have any product exclusively designed for the IAF. However, the Perimeter Security solution mentioned above can be used in IAF bases to safeguard their assets
ADU. Does Saankhya Labs have tie up with ISRO for its solutions?
VK. Yes, Saankhya has an MoU with ISRO for Mobile Satellite Service (MSS) terminals and have designed a variety of satellite communication products with ISRO. These include S-Band Satphone, Location Reporting Terminals, Portable Broadcast Receivers and Vessel Tracking Terminals. Details of these products and solutions have been provided above.
Saankhya's satellite solutions operate on ISRO's satellite meant for Defence and Strategic use. With the space asset and the ground communication equipment under the control of India, Saankhya's offerings are the most secure satellite systems for defence communication.
ADU. Which are the various defence OEMs both Indian and Foreign , you have tied up with to build battlefield ready radios for Indian defence forces ?
VK. We have partnered with a large system integrator for the army's SDR program and Defence PSU for strategic applications.