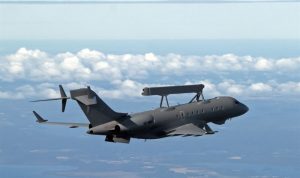 Dubai. 19 July 2020. Saab has signed a support agreement with the United Arab Emirates regarding the advanced airborne early warning and control (AEW&C) solution GlobalEye. The agreement is valid between 2020 and 2022, with an order value of 144.9 MUSD. The agreement covers support and maintenance for the airborne surveillance system GlobalEye. The support and maintenance will be executed locally in the United Arab Emirates.
During November 2015, the United Arab Emirates ordered the system, which it refers to as the Swing Role Surveillance System (SRSS), as part of a US$1.27 billion deal. During February 2017, the UAE exercised an option to procure an additional third GlobalEye in a deal worth US$238 million. According to UAE air force chief Ibrahim Naser Al Alawi, the GlobalEye should be a "strong force multiplier…an early warning radar which is capable also of detecting ballistic missiles, and to cover the whole domain as an air power". By May 2019, lead elements, including ground control stations, had been delivered to the UAE. The UAE took delivery of its first Globaleye as per schedule on 28 April 2020.
Saab is offering two GlobalEye aircraft in addition to 64 Gripen E/F as part of its bid for the Finnish HX fighter procurement programme. From 30 January to 6 February 2020 GlobalEye participated in HX Challenge flight evaluations flying to Finland from Linköping in Sweden with a Finnish Air Force delegation on board. The buying decision is scheduled to occur in 2021.
GlobalEye is a multi-role airborne early warning & control (AEW&C) platform from Swedish defence and security company Saab. GlobalEye consists of a suite of sensors using Saab's Erieye ER (Extended Range) radar and mission system, installed in the Bombardier Global 6000 long-range business jet.
The primary sensor of the GlobalEye is its Erieye ER airborne early warning (AEW) radar; weighing approximately 1 tonne, it is mounted atop the twinjet's fuselage. Saab has cited up to 450 km (216 nm) range for the AEW radar system when flown at an operating altitude of 30,000ft in comparison with earlier versions of the Erieye radar, Saab claims it has achieved a 70% increase in detection range, achieved via the use of new technology, such as gallium nitride transmit/receive modules. According to Saab Group, the GlobalEye is capable of detecting and tracking a combination of airborne and surface targets, the latter on both land and sea, while mission times of up to eleven hours in duration are possible.
In addition to the AEW radar, the GlobalEye is equipped with various additional sensors. These include the Seaspray 7500E maritime surveillance radar, provided by Italian defence conglomerate Leonardo; the Seaspray radar features synthetic-aperture radar and ground-oriented moving target indication modes. The GlobalEye also has an electro-optical/infrared sensor, which is situated underneath the forward fuselage. Other mission equipment includes data links, voice and satellite communications and a command and control suite, the latter comprising five onboard operator stations. The GlobalEye can be operated without any onboard operators, streaming its surveillance output to ground-based stations instead.
According to Saab, the GlobalEye can simultaneously perform airborne, maritime and ground surveillance duties. It has been offered with three layers of capability: the baseline AESA and C2 system for air, land and sea surveillance, along with some electronic intelligence functions; a version with additional infrared and sea-search functionality; and one with a dedicated signals intelligence (SIGINT) system.