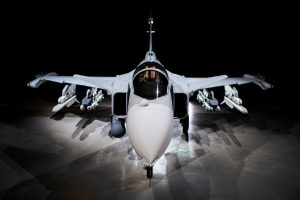 New Delhi.  18 June 2016. When Hakan Buskhe, President and CEO, Saab  in New Delhi last December fully endorsed Prime Minister Narendra Modi's Make in India vision and stated that the company is ready to participate by establishing a full-fledged assembly line to manufacture its state-of-the-art 4th generation+ Gripen NG jet fighters in India, he also gave a hint that the European major wouldn't restrict itself to only assembling the aircraft in India but go the whole distance by actively assisting its Indian partners and related entities in establishing the complete eco systems for the fighter's production in India.
It is the never say die attitude of the Swedish aircraft manufacturer which is infectious and the recent statements which  explained its comprehensive plans to further design, develop, manufacture and maintain the aircraft in India through transfer of technology, gives the feel that it is definitely on the Made in India bandwagon.
Gripen NG is selling itself to India as the most advanced multi-role fighter in the world. It is, by design, a true multi-role fighter aircraft, capable of performing an extensive range of air-to-air, air-to-surface and reconnaissance missions under all conditions in any environment, is the advertising copy.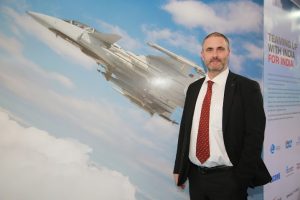 "Our concept of technology transfer is real as we are willing to give India comprehensive system and software control. In short, Saab is not only looking at setting up a base here, but also helping in the development of aerospace capability for many years to come," says Jan Widerström, Chairman ,Saab India Technologies Pvt Ltd.
Using the latest technology, sensors and weapon systems, it is designed to meet the demands of existing and future threats, while simultaneously balancing strict requirements for mission success, reliability, training efficiency and low operating costs.
Saab has also set out a comprehensive plan within India's Make in India initiative, which will include transfer of state-of-the-art technology; setting up of an aerospace eco-system in India, including a manufacturing facility; creation of a local supplier base; employment of a well-trained Indian workforce in engineering and manufacturing.
Saab's plan also includes a programme for training people to develop skills and knowledge that is critical to creating an aerospace eco-system.
"We would train engineers in Sweden, as we're currently doing with Brazilian engineers for the Brazilian Gripen programme. We will train people in India and in Sweden to be able to design, develop, manufacture and maintain in India", says Mats Palmberg, Vice President, Industrial Partnerships, Saab Aeronautics. "We will not work by simply providing kits, but by providing knowledge so that we can build capability both from the bottom of the supply chain and from the top of the supply chain. There will be a lot of training in Sweden and in India. In that way we can reach an indigenous capability to maintain, to sustain, to further develop Gripen in India. We will not simply move an assembly line; we will build development capability. We will Design, Produce, Support, Innovate in India."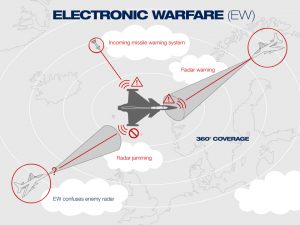 Gripen offers operational dominance and flexibility with superior mission survivability. Air-to-air superiority is guaranteed with METEOR and IRIS-T missiles and supercruise. Air-to-surface capability is assured through the use of the latest generation precision weapons such as RBS15 & Taurus KEPD and targeting sensors. Gripen's superior situation awareness is ensured through multiple tactical data links, and smart data fusion of AESA radar, IRST passive sensor, HMD, cutting-edge avionics, next generation data processing and a state-of-the-art cockpit.
"We see Make in India as much more than transferring of assembly lines. Training and education will be a big part of our potential industrial setup here, and will have large long-term benefits and effects when it comes to building Aerospace and Defence capability in the country. The setup will involve building and augmenting capability in design, development, manufacturing and support in India.  The whole ecosystem, including Indian partners and suppliers,  will involve a very large investment, and will employ a very large number of people – and will aim at a rapid increase in indigenization of sub-systems and systems, " Jan added.
The Gripen platform comes with unbeatable cost advantages in terms of per-hour flying cost and overall life cycle cost and this also makes it just right for the Make in India initiative feels Saab.