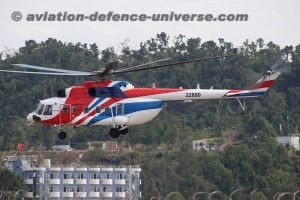 Zhuhai, China. 09 November 2018. The Chinese company China General Aviation Service reaffirmed its intention to purchase a batch of Mi-171A2 helicopters manufactured at the Ulan-Ude Aviation Plant (U-UAZ). Russian Helicopters holding company (part of Rostec State Corporation) is planning to manufacture six air vehicles and deliver them to the customer by 2022.
Based on demand of this helicopter model among Chinese customers, the holding is now working on validation of a Mi-171A2 certificate in China.
"We are ready to start mass production of the Mi-171A2 for foreign customers, and I am sure that China will be among them. Deliveries for the benefit of such a large operator will certainly work towards getting further orders. This helicopter represents a giant step in the evolution of the Mi-8/17 pattern helicopters and has advanced technical solutions that have improved the comfort, safety and performance of the helicopter," said the CEO of the Russian Helicopters Holding Company, Andrey Boginsky.
The Mi-171A2 multi-purpose helicopter is one of the most highly anticipated new products of the Russian helicopter industry, a result of the major upgrade of the Mi-8/17 pattern helicopters. The design of the Mi-171A2 has undergone more than 80 modifications. The helicopter is equipped with VK-2500PS-03 engines (a civilian version of engines installed on Mi-28 combat helicopters) with a digital control system.
One of the main distinguishing features of the Mi-171A2 helicopter compared to Mi-8/17 helicopters is the new rotor system. The helicopter has a more effective X-type antitorque rotor and a new main rotor with all-composite blades with an improved airframe configuration. Thus, thanks to aerodynamics alone, the thrust of the Mi-171A2 main rotor has increased by more than 700 kg, which has had a positive impact on the helicopter's performance.
In August 2017, the helicopter received a Category A certificate from the Federal Air Transport Agency of the Russian Federation. This category involves meeting the most stringent requirements to flight safety specified for civilian helicopters. In January 2018, the Mi-171A2 successfully proved the operability of the latest multi-purpose Mi-171A2 helicopters in severe climatic conditions at an ambient temperature of as low as – 50 C.