Moscow. 22 August 2020. Russian Helicopters will demonstrate a wide range of military helicopters at the International Military-Technical Forum "Army-2020" that will take place in the Moscow Region from August 23 through August 29.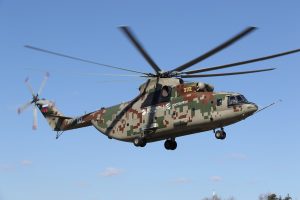 The holding company's static exposition in the Patriotic Park of Recreation and Leisure "Patriot" will include upgraded transport and military helicopters Mi-35P and Mi-35M, Ka-226T light multipurpose helicopter, Mi-171Sh military and transport helicopter with increased attack capabilities and improved protection, and a mobile service center for overhaul and maintenance of Mi-8/17-type helicopters at customers' air bases.
At the Kubinka airfield, guests and participants of the forum will see Mi-28NE "Night Hunter" attack helicopter, the ship-based Ka-52K "Alligator" helicopter, Mi-17V-5 military and transport helicopter, the modernized Mi-26T2V heavy transport helicopter, and the most modern Mi-38T transport helicopter. The holding company will present its civilian products: Mi-38 passenger helicopter with a highly comfortable cabin, and a medical version of Ansat helicopter.
Besides, in the demonstration center of Rostec State Corporation, Russian Helicopters' exposition will include the most modern blade with a sword-like edge, which improves a helicopter's performance, and a mobile service center unit, which is a 20-feet container with equipment for maintenance and repair of Mi-8/17 helicopters.
"The International Military-Technical Forum "Army" is the largest event in the Russian defense industry, at which we can show our latest designs and developments to potential Russian and foreign customers. We are constantly improving our rotorcraft, and in 2020, we are presenting a number of state-of-the-art models, which include advanced design solutions in terms of safety and increased attack capabilities of helicopters," said Director General of Russian Helicopters holding company Andrey Boginsky.