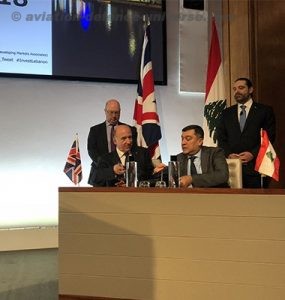 London. 16 December 2018. As part of its widebody fleet renewal, the Lebanese carrier Middle East Airlines – Air Liban (MEA) has decided to purchase four new and two option Airbus A330-900neo powered by Rolls-Royce Trent 7000 engines due to deliver in 2021.
Today Rolls-Royce signed a contract with MEA to provide support for the Trent 7000 engines powering its new Airbus A330-900neo fleet. The contract covers long-term engine maintenance services, throughout the operation of the engine with MEA, the purchase of spare engines and supply of parts.
The contract was signed during the Lebanon-UK Business and Investment Forum in London by MEA Chairman – Director General Mohamad El-Hout and Rolls-Royce Chairman Ian Davis and witnessed by the Prime Minister of Lebanon, His Excellency Mr Saad Hariri and the Rt. Honourable Alistair Burt, UK Minister of State for International Development and Minister of State for the Middle East.
Rolls-Royce will deliver the latest engine in its Trent range, the Trent 7000, along with its flagship TotalCare® support service. The Trent 7000 is part of a Trent family that has now accumulated more than 125 million engine flying hours.
El-Hout said: "We are committed to ensuring our airline is at the leading-edge in terms of using technology to provide excellent customer service and performance. Our new aircraft, and their latest-generation Trent 7000 engines, will deliver on that goal. Rolls-Royce TotalCare is expected to offer optimisation to our maintenance costs through long term engine maintenance services. This deal symbolises the close bonds and relationship between the UK and Lebanon and we are pleased to be signing this historic deal here in London at the Lebanon-UK Business Investment forum under the patronage of His Excellency Prime Minister Mr. Saad Hariri."
Ian Davis said: "We are honoured to sign this contract with a valued, forward-thinking, customer that continues to develop the capability of its fleet. It marks another milestone in a strong relationship we have built up together for more than 50 years, and we look forward to supporting MEA operations to maximise aircraft availability."
The relationship between Rolls-Royce and MEA dates back more than 50 years, when the airline operated Dart-powered Viscount aircraft. MEA currently operates five Airbus A330 aircraft that are powered by Trent 700 engines, which will be progressively replaced by these latest aircraft.
The 68-72,000lb thrust Trent 7000 delivers a step change in performance and economics compared to the Trent 700. Benefitting from a bypass ratio double that of its predecessor, the Trent 7000 will improve specific fuel consumption by 10%, and will significantly reduce noise.