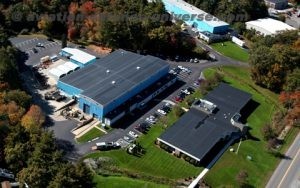 Walpole, Massachusetts . 19 December 2019. Rolls-Royce is investing $7.7 million to create new manufacturing, repair and test capability in support of U.S. Navy programs with the completion of a new facility in late 2020. Rolls-Royce officially launched construction with a ground breaking this week for the 24,000 square foot facility that will enhance and modernize the company's naval operations in Walpole.
Upon completion, Rolls-Royce's flagship Naval Defense facility will add water jet maintenance, repair and overhaul (MRO) servicing to its portfolio of world-class capabilities. Rolls-Royce expects demand for spare equipment and MRO services associated with the U.S. Navy's Littoral Combat Ship (LCS) program to ramp up beginning next year. Each Freedom class variant of the LCS is equipped with four Rolls-Royce waterjets.
Rolls-Royce continues to provide unparalleled products and services to the U.S. Navy. The company is the sole supplier of shock-rated propeller systems, which have demonstrated extraordinary levels of reliability and robustness in service. Rolls-Royce Propulsion equipment can be found on more than 95% of the U.S. Navy Surface Warfare fleet.
Tom Bell, Rolls-Royce plc President – Defense and Rolls-Royce North America Chairman & CEO said: "We're excited to announce this important investment in our naval business. Rolls-Royce is bringing critical new capabilities to the region, reaffirming our strong commitment to the U.S. and our largest global Defense customer – the U.S. Department of Defense.
"The new facility in Walpole is just one of many significant U.S. investments Rolls-Royce Defense will highlight in 2020, as we continue to provide world-class American made products and services to support the U.S. military around the world."