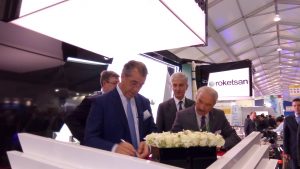 Farnborough, UK. 13 July 2016. Airbus D&S signed a MOU with Roketsan Missiles Industries of Turkey to integrate a range of weapon systems on the Airbus C295W surveillance and transport aircraft.
Under the terms of the agreement the companies will collaborate on the design aspects, integration and initial testing phases of a variety of weapons from Roketsan's existing product range.
Head of Military Aircraft Fernando Alonso said: "We are fully committed tocontinuing to develop new applications for the C295W and to enhancing its existingsystems to ensure it retains its market-leading position. There is a clear opportunityfor us to address the global requirement for a cost-effective armed utility aircraft and Roketsan's product range and proven expertise make them the obvious partner."
Systems to be integrated onto the market-leading C295W include at least: the70mm laser-guided missile "CIRIT"; laser-guided long-range anti-tank Missile"LUMTAS"; and laser-guided bomb "TEBER". The joint activity will begin in the coming months and will eventually lead to weapons carriage and release trials using Airbus Defence and Space's development aircraft.
Chairman of the Board of Roketsan Emin Alpman, said: "As Roketsan we are ideally position to enhance the air-to-ground capability of the C295W with sophisticated weapons that are at the cutting edge of technology. We stand ready to combine our expertise with our partner Airbus Defence and Space to provide new solutions to the armed forces of allied countries.