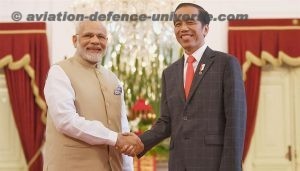 Modi & Joko make big waves
 By Suresh Somu
 Jakarta. 01 June 2018. IT'S a win-win voyage for India and Indonesia with the latest unusual commitment to the high seas.Both India Prime Minister Narenda Modi and Indonesia President Joko Widodo made big waves when they met in Jakarta on Wednesday (May 30).
And probably the best way to further strengthen strategic co-operation between the two countries will now be on the high seas. The two leaders smartly know that a closer bond ship paves the way for Indonesia to provide India a platform to expand its maritime outreach as it holds maritime importance for India.
Presently, the maritime co-operation between India and Indonesia till date has been naval exercises and patrolling between Andaman Sea and the Straits of Malacca. But going on the growing political power-play on the high seas it is the right time to focus on their nations' maritime future. In simple geography terms, India has a huge coastline and Indonesia a massive archipelago and the modern rulers barely looked to the sea. Now Joko and Modi seem determined to change it during the Indian leader's first official visit to Indonesia.
THE INDO-PACIFIC LINK
Modi has sought to strengthen domestic maritime infrastructure through the idea of "port-led development". The time is right and they have embraced the new geopolitical construct called the Indo-Pacific. And it suggests for an advanced productive maritime partnership between India and Indonesia.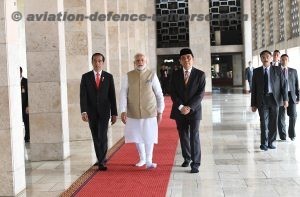 Also Modi said that India's vision on security and welfare in the region and its Act East Policy were similar to Joko's maritime fulcrum policy. He also affirmed that greater security and economic partnership between the two nations was critical for the balance of power in Asia and the Indian Ocean.
"We agree to step up our strategic partnership to comprehensive strategic partnership and with that, bilateral relations between Indonesia and India will become stronger and better," said Joko in a joint statement with Modi at the Merdeka Palace in Jakarta.
The leaders also endorsed its commitment to strengthen its defence and economic ties. Modi also underlined both countries' commitment to achieve the target to boost bilateral trade to US$50 billion (S$67.1b) by 2025.
BIGGEST TRADE PARTNER
According to the data from the Trade Ministry, Jakarta, India is Indonesia's biggest trading partner in South Asia and fourth biggest trading partner in the world. Two-way trade reached US$18.13 billion (S$24.27 billion) last year, up 22.34 percent from a year earlier. And Indonesia enjoyed a surplus of US$10.04 billion in bilateral trade.
More handshakes followed and Indonesia's Foreign Minister Retno Marsudi said that Indonesia and India have renewed an agreement on defence which expired a few years ago. And in total, nine agreements in the area of defence, infrastructure, pharmaceutical, health and science technology.
Notably, in November 3, 2016, a Memorandum of Understanding (MoU) was signed between Tata Motors, India's largest automobile manufacturer and PT Pindad to explore market potential of Tata Armoured Vehicles in Indonesia and other agreed regions of ASEAN.
This year, 300 water cannons will be produced commercially between Indonesia's state-owned weapon manufacturer PT Pindad and India's automotive company Tata Motors.
BUSINESS CO-OPERATION
To further achieve the trade and investment goal, the Indonesian Chamber of Commerce and Industry (Kadin) and its Indian counterpart, the Confederation of Indian Industry (CII), inked a deal to intensify business cooperation in four areas: manufacturing, mining, pharmaceutical and infrastructure.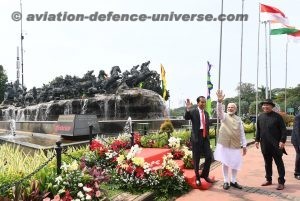 In the present situation, in a truly win-win situation, India's strategic partnership with South-east Asian countries looks more promising. And it is not an unorthodox approach to increase India's strategic footprint in the Asean region.
The early thumbs-up are evident for Mr Modi as he plots a five-day, three nation visit to Indonesia, Malaysia and Singapore to boost the Act East policy.
REFRESHING MARITIME BOND
Momentously, it has now fallen on Modi and Joko to translate that vision into reality and start a refreshing partnership in maritime bonding.
The Act East Policy articulated by the Indian Prime Minister and the growing strategic turbulence in the waters of South-east Asia will see a new shot-in-the-arm and more promising emphasis on maritime co-operation between India and Asean.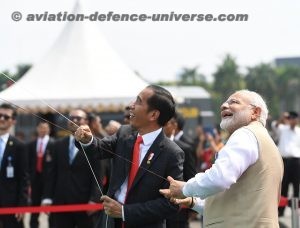 The high seas offer further promise as India and Indonesia intend to work on the joint construction of ports, facilitate direct shipping links, promote cruise tourism in the Bay of Bengal, and strengthen shared maritime domain awareness in common sea spaces. These are valuable first steps which will further boost the global recognition of a renewed Asean.
The new imperatives for the sustainable use of the oceans, and the responsibility to contribute more to the maintenance of the regional security order in the Indo-Pacific demand that both Modi and Jokowi are playing their cards at the right time for a very rich shared maritime future.