New Delhi. 18 July 2018. A delegation led by the Commander Combined Task Force (CTF 151), Rear Admiral Saw Shi Tat, Republic of Singapore Navy, visited INS Teg (presently berthed at Djibouti harbour). During the interaction, various aspects of anti-piracy operations including CTF 151 modus operandi were discussed.
The Indian Ambassador to Ethiopia, Mr Anurag Srivastav, and Mr Nalin Kothari, Consulate General, Djibouti also visited the ship at Djibouti harbour. The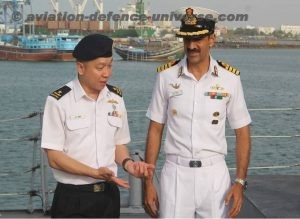 Ambassador walked around the ship and was given a presentation on IN activities and operations in Gulf of Aden. Subsequently, the ship's Ops Team had an interaction with the Ambassador on the growing strategic importance of Djibouti and the growing interest of other navies in the region.