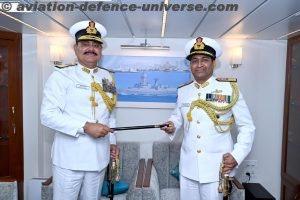 Mumbai. 15 November 2023. The 'Sword Arm' of Indian Navy, the Western Fleet underwent a change of guard on 10 November 2023. Rear Admiral CR Praveen Nair, NM took over the mantle of Flag Officer Commanding Western Fleet from Rear Admiral Vineet McCarty at a ceremonial naval parade held in Naval Dockyard, Mumbai.
Rear Admiral Nair was commissioned into the Indian Navy on 01 Jul 91. The Flag Officer is an alumnus of the Naval Academy, Goa, Defence Services Staff College, Wellington and the US Naval War College, Newport, USA and as Flag Officer has tenanted the appointment of Assistant Chief of Naval Staff (Policy & Plans) at the Naval Headquarters.
As a Communication and Electronic Warfare Specialist, he has had tenures on Indian Naval Ships Krishna, Kora and Mysore. He has also served as the Fleet Electronic Warfare Officer and the Fleet Communication Officer of the Western Fleet and the Fleet Operations Officer of the Eastern Fleet. He has a vast experience in the domain of naval training with tenures in the Talwar Class Training Team, Directing Staff at Naval War College, Goa and Officer-in-Charge of Signal School, Kochi. He has also served at the Naval Headquarters as Commodore (Personnel).
Rear Admiral Nair has commanded the missile corvette INS Kirch, aircraft carrier INS Vikramaditya and commissioned the guided missile destroyer INS Chennai.