New Delhi. September. National Investigation Agency (NIA) is all set to get its own office complex. Lack of adequate space was a hindrance for smooth functioning of the organization and the new Headquarter Office Complex will further improve its working qualitatively.
Union Home Minister,  Rajnath Singh laid foundation stone for the National Investigation Agency (NIA) Headquarters Office Complex. He said that the crisis of credibility is a challenge and the NIA has proved it time and again. NIA has been working professionally and its success rate is more than 95%, he added. The Union Home Minister assured all possible assistance from the Centre for the smooth functioning of NIA and mentioned that the organization has grown from being an infant to a sufficiently mature one.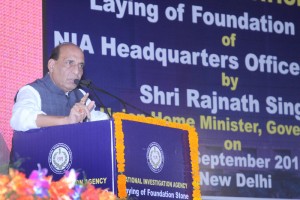 The construction of this proposed office complex is scheduled to be completed within a time frame of 18 months. The Office Complex comprising of Administration Building will have nine floors with a total area of 90,061 sqft with two basements having additional 8,872 sqft area. The MHA has sanctioned Rs.35.13 crore for this project. This project has been assigned to National Building Construction Corporation (NBCC) Ltd.
Director General, NIA, Sharad Kumar welcomed the guests and made a presentation about the functioning of the organization. He mentioned that at present out of total 106 cases, 57 cases have reached the stage of trial. He further said that the conviction has been secured in 12 cases out of 14, against 57 accused persons.