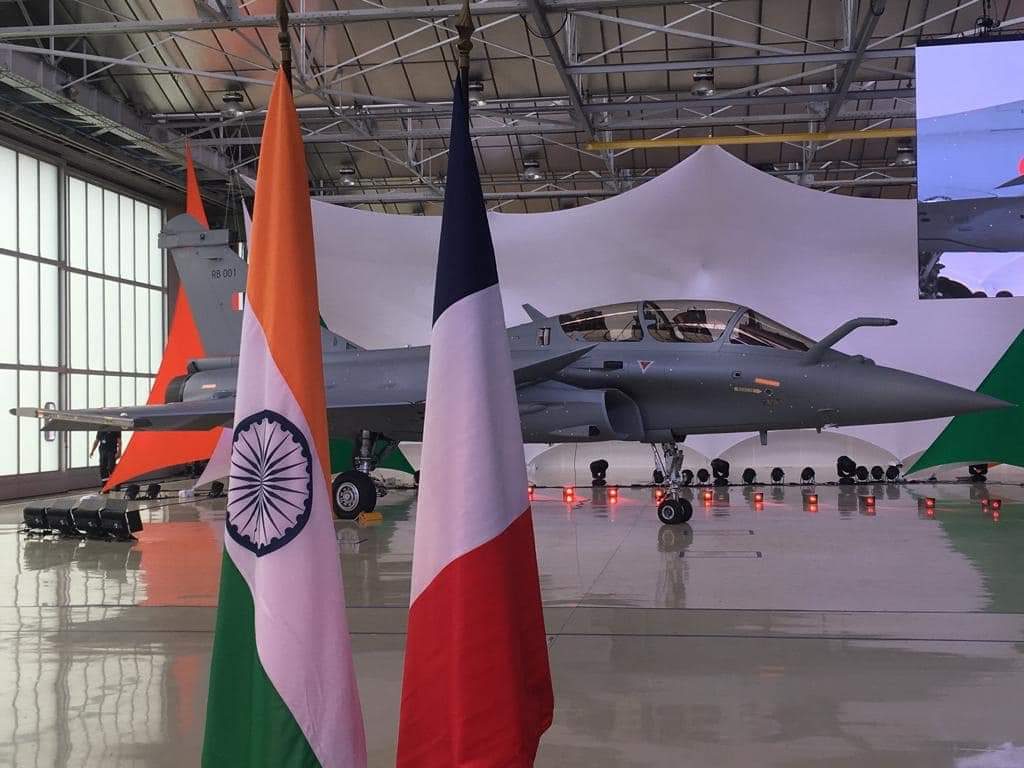 Rajnath Singh receives first jet from Dassault
By Sangeeta Saxena
New Delhi. 08 October 2019. It was a day of dual celebration not only for India Air Force but the nation as a whole. In an emphasis  on the focus to equip Indian Air Force and enhance its capabilities, thereby making India stronger and giving  a boost to its air dominance exponentially to ensure peace and security in the region, India received the first  Rafale Medium Multi-Role Combat Aircraft (MMRCA) today at a ceremony in Merignac, France.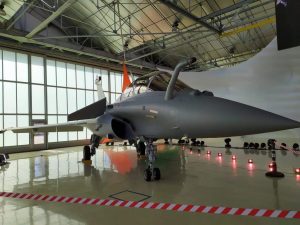 Defence Minister of India Rajnath Singh says strong cooperation between India and France will continue to grow and contribute to global peace, prosperity and environmental sustainability. He received the fighter on the 87th Indian Air Force Day.
Reiterating that the depth of strategic partnership between India and France was increasing by leaps and bounds, he said that a large number of India Air Force officers and airmen are being trained in France for flying, maintenance support and logistics for handling Rafale fighter aircraft and hoped the training in French facilities will help the crew in acquiring knowledge and professional expertise required for performing their task in India.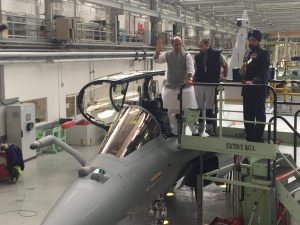 The Rafale Project Monitoring Team (PMT) from India has been positioned in France since August 2017 to ensure smooth implementation of the project. The delivery of Rafale aircraft is on schedule and will add to the strength of Indian Air force. The Inter-Governmental Agreement (IGA) for 36 Rafale aircraft procurement was signed between the Government of India and Government of France on 23 September, 2016.
The Minister in the traditional Indian way performed the 'Shastra Puja' on Rafale as the day also coincided with the Indian festival of Dussehra. Also present on the occasion was Indian Vice Chief of Air Staff Air Marshal Harjit Singh Arora French Minister of Armed Forces, Florence Parly and Chief Executive Officer of Dassault Aviation, Eric Trappier.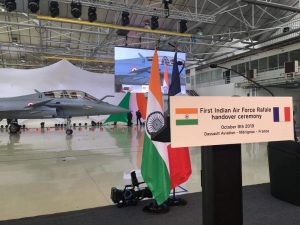 The Defence Minister of India also held talks with the French President of Emmanuel Macron in Paris and their focus was on bilateral defence partnership and resolved to continue strengthening the ties "I thanked President Macron for his strong support to further intensifying our strategic partnership, especially in the defence sector, with India and for our 'Make in India' initiatives", Rajnath Singh said after the meeting. He also thanked the French President for the strong support by France to India's strategic interests and principles, including in fighting terrorism.
It is a day to reiterate that the choice made by the Indian Air Force of the twin-jet combat aircraft, capable of carrying out a wide range of short and long-range missions, including ground and sea attacks, reconnaissance, high-accuracy strikes and nuclear strike deterrence, is the best.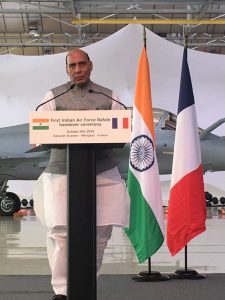 The fighter boasts of state-of-the-art 150-km range Meteor air-to-air missiles. It is superior to any such missile in the region. Over 300 km Scalp air-to-ground cruise missile also has two-metre precision capability. Rafale has a faster turnaround time that makes it capable of undertaking five sorties in a day while other fighter jets can undertake a maximum of three sorties in a day.
The Rafale is modified to suit Indian requirements. It possesses the capability for 'cold start at high-altitude regions like Leh' to Israeli helmet-mounted displays, advanced missile warning and synthetic aperture radars. It can carry payloads of more than 9 tonnes on 14 hard points for the air force version, with 13 for the naval version. It has supreme capability to survive in a dense threat environment thanks to stealthiness and/or to advanced electronic warfare systems.
It is fitted with a RBE2-AA radar system which is an active electronically scanned array (AESA) radar system derived from the Rafale's RBE2 radar. It replaces the mechanically steered array antenna by electronically steering exerted by up to several thousand of transmit-receive modules which enable maximum performance and versatility as well as enhanced reliability. The radar has a greater detection range of 200 km, improved reliability and reduced maintenance demands over the preceding radar. Active electronic scanning makes it possible to switch radar modes quickly, thereby enabling operational functions to run simultaneously.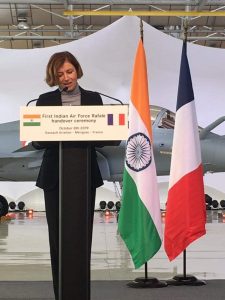 The discussion for the last many months has been focussed on how Rafale will have a distinct edge over Pakistan's F-16. Some analysts also stated that Pakistan would need to deploy two F-16s for one Rafale jet. The truth is that it will be more appropriate to compare Rafale with Americas state-of-the-art F-35.
India is today all set to sharpen its military teeth and the 36 Rafales in the IAF's inventory will ensure just that. So today was not just another Air Force Day but a Red Letter Day for the Indian Air Force. Welcome to Indian air power Rafale.