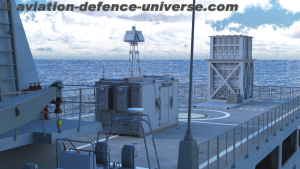 At IMDEX 2023, RAFAEL will be highlighting its sophisticated and diverse naval systems portfolio. In focus for the first time is the IRON BEAM's Naval Application. In March 2022, RAFAEL alongside the Ministry of Defense's Directorate of Defense Research and Development (DDR&D) successfully completed a series of ground-breaking live field tests with a high-power laser interception system- the IRON BEAM- against steep-track threats. RAFAEL's NAVAL IRON BEAM is designed to quickly and effectively engage and neutralize a variety of threats, including short-range ballistic rockets, drones and UAVs of various sizes. Like its land-based variant, the naval application can be integrated into an existing air defense system such as the IRON DOME, thus constituting a complementary, cost-effective defense solution, in addition to the kinetic air defense capability.
"Evolving threats require dynamic and evolving solutions, the NAVAL IRON BEAM, is an excellent example of such a defense solution. RAFAEL's naval portfolio is constantly growing, our systems are constantly upgraded and our focus on research and development is rapidly identifying new solutions to current and future challenges. Our exhibition at IMDEX provides a close look at RAFAEL's excellence in providing the most precise solutions to the most pressing security challenges in the naval arena." Executive Vice President Dr. Ran Gozali, Head of the Land and Naval Systems Directorate, RAFAEL
The company will also be showcasing its newest configuration of the naval application of IRON DOME, known as the C-DOME Mission Module. With C-DOME already tested and operational in the Israeli Navy, RAFAEL has developed the C-DOME Mission Module concept for local defense applications, providing advanced solutions for OPVs, auxiliary ships, and other naval support ships and assets, enabling them with advanced air defense capabilities, without the need for deck penetration, vessel hull retrofit or complex platform integration.