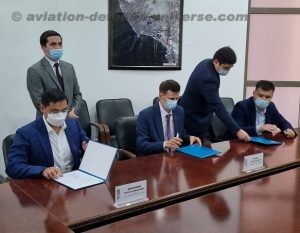 Nur-Sultan. 8 September 2021. Eurasian Space Ventures (ESV), the first Kazakhstani private space company signed a memorandum of understanding with the Kazakhstan Gharysh Sapary (KGS), the country's national space company, and Ghalam, a joint Kazakhstani-French enterprise, in order to develop partnership relations and attract investments from private international space companies to Kazakhstan.
The memorandum signed by the parties opens up prospects for building long-term cooperation between private business and the government in developing the country's aerospace potential, attracting foreign private investment, exporting space products and services, developing projects in space technologies and using Ghalam's production capacities.
"The ESV representatives, headed by the company founder, Kazakhstani entrepreneur Shukhrat Ibragimov, had the opportunity to visit the main production facilities and get acquainted with the scientific and industrial potential of Kazakhstan Gharysh Sapary NC and Ghalam," the KGS Press Service reports. There was also a meeting and a detailed conversation with Mr. Malik Olzhabekov, Vice Minister of Digital Development, Innovation and Aerospace Industry of the Republic of Kazakhstan.
"We are sincerely glad to sign this Memorandum with ESV. From this cooperation, we expect a new round of Kazakhstan space industry development through active involvement of private business in it. We hope that our partnership will become an excellent driver for development of high-tech production created in Kazakhstan and that it will lead to a new level of international cooperation," noted Dmitriy Zernov, Deputy Chairman of the Management Board of Kazakhstan Gharysh Sapary NC.
"History is cyclical. In the past, it was from the Kazakhstan Baikonur cosmodrome that a human went into space for the first time in history. Today, a new era of space exploration and the use of space technologies for business innovation is beginning for Kazakhstan. The memorandum allows us to start effective cooperation with the government. Using the existing infrastructure, we are able to jointly bring the aerospace industry to the commercial plane. As a private company, it is faster and easier for us to attract international partners with breakthrough technologies and know-how, and the industry's innovative engineers who will help us develop a joint national space program and engage in commercial projects," said Shukhrat Ibragimov, the ESV founder at the meeting.
According to him, based on this partnership, ESV plans to create a space hub that will attract international developers to Kazakhstan to implement a series of projects, starting from operating systems work. The latter will be integrated with the infrastructure of existing Kazakhstan satellites, and those that are being put into orbit. Programs are also planned to assemble new-generation satellite equipment in order to increase the domestic industry's competitiveness.
From this cooperation with ESV, the Ghalam representatives expect the creation of a joint techno park and prototypes based on their production capabilities, and attracting investments for creation of spacecraft.
ESV is a private company registered in the territory of the Republic of Kazakhstan. It actively cooperates with such leading global companies as SpaceChain, Loft Orbital, NanoRacks and others. Together with its partners, ESV has already implemented two projects in space – satellites were launched on Elon Musk's Falcon X spacecraft to ensure the operation of the Biteeu crypto exchange in orbit, and the Divine social project to broadcast Quran audio recordings directly from the satellite free to Muslims around the world.
Shukhrat Ibragimov is the EVR founder, a Kazakhstani entrepreneur, Member of the Board of Managers of ERG, the largest international mining company, Member of the Board of Directors of Eurasian Bank and Eurasia IC.
Kazakhstan Gharysh Sapary National Company Joint-Stock Company with one hundred percent government participation, was established on 2 August2007 with the aim of developing and implementing space technologies, conducting experimental design work on creation of space systems and complexes, and implementation of inter-sectoral programs in space activities aimed at solving Kazakhstan's socio-economic issues.
Ghalam LLP is a joint venture of Kazakhstan Gharysh Sapary NC JSC and Airbus Defense & Space, founded in 2010 with the aim of implementing a project to create the Spacecraft Assembly, Integration and Test Complex (SC AITC) and its further operation under the partnership agreement between Kazakhstan and France.