By Suresh Somu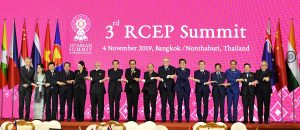 Bangkok. 04 November 2019. INDIA and ASEAN (Association of South-east Asian Nations) are going places and set to chart further refreshingly new courses towards regional success, says Indian Prime Minister Narendra Modi.
Modi is a new-look leader of visionary and with the current governance, India witnessed a robust economic growth from USD 2 trillion to nearly 3 trillion in five years. And his longer-term target is to raise the economic growth to five trillion economy over the next 60 months.
He says optimistically to ASEAN leaders at the India-ASEAN Summit in the Thailand capital of Bangkok: "India's Act East policy is an important part of our Indo-Pacific vision and ASEAN lies at the core of it. Integrated and economically vibrant ASEAN is in the interest of India."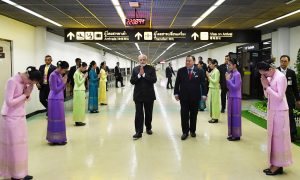 TURNING POINT
The turning point came on November 2 at a themed congregation called, "Sawasdee PM Modi," organised by the Indian community in Thailand, where he addressed about 1,000 Indian-Thais gathering at the Nimitbutr Stadium, Bangkok. He challenged the India businessmen to show the world that India business is just not a boon to the adopted countries but also to the motherland.
As India and Thailand shared several commonalities, he hailed the deep-rooted nations will only develop further. "In the name of 1.3 billion Indians, I would like to express my great respect to the Thai Royal Family. It is a great symbol of the relationship with India," Modi said.
He also met his Thai counterpart General Prayut Chan-o-Cha in Bangkok on the sidelines of 35th ASEAN Summit. Ministry of External Affairs spokesperson, Raveesh Kumar in a tweet said: "A strong historical and cultural connect. PM had a good conversation with the host of ASEAN on stepping up our bilateral cooperation through connectivity, trade and investment, defence and security, among other areas."
There has been a stiff domestic opposition against India's involvement in the Regional Comprehensive Economic Partnership (RCEP). Labelling as "untold hardship" to the farmers, shopkeepers, and small and medium-sized enterprises, Congress Party President Sonia Gandhi is brewing and intensifying to oppose the deal.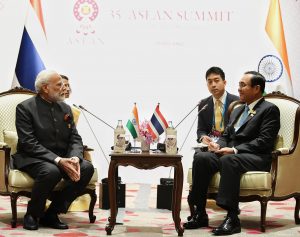 GOING FORWARD
However, Modi remained committed in greater engagement and partnership with ASEAN in the areas of mutual interest to take the country forward.
The Regional Comprehensive Economic Partnership (RCEP) bloc comprises 10 ASEAN group members (Brunei, Cambodia, Indonesia, Malaysia, Myanmar, Singapore, Thailand, the Philippines, Laos and Vietnam) and their six FTA partners – India, China, Japan, South Korea, Australia and New Zealand.
RCEP negotiations which began in Cambodia in 2012 covers areas, including trade in goods and services, investment, market access, economic cooperation, intellectual property and e-commerce. India has set its sights on forging closer trade ties with ASEAN via an overland route through Myanmar and Thailand, says Indian Prime Minister Narendra Modi.
INDIA'S ACT EAST POLICY
Reiterating his stand, Modi told ASEAN leaders: "ASEAN is at the very core of our Act East Policy. An integrated, cohesive and economically developing ASEAN serve India's core interests. We are committed to improving our partnership, through better surface, maritime and air connectivity, and through digital links."
He also called ASEAN countries for more collaboration and capacity building in areas such as agriculture, science, information and communication technology, and engineering. As the saying goes, you can't have the cake and eat it too.
He told the Bangkok Post newspaper that he is committed to RECP talks but added that "opening the vast India market must be matched by opening in some areas where our businesses can also benefit" And he definitely welcomed ASEAN's decision to review the ASEAN-India trade in goods, agreement signed in 2010.
Modi said India's aim is to have "a great increase" in the mobility of people for studies, research, trade and tourism.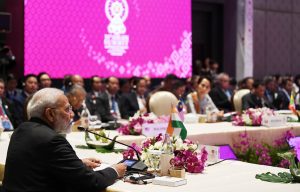 ENGAGE ASEAN MORE
Towards that positive note, Singapore Prime Minister Lee Hsien Loong invited India to further engage ASEAN in the areas of economic integration, regional security and sustainable development. He remarked that ASEAN and India have a total market of almost two billion people and more than US$5.5 trillion GDP.
The two could enhance economic opportunities through growing transport connectivity by swiftly concluding the ASEAN-India Air Transport Agreement and the ASEAN-India Maritime Transport Agreement.
The forward-looking signs between India and ASEAN look positive and definitely set to chart further refreshingly new courses towards regional success in the coming years, much thanks to Modi's pragmatic regional-styled leadership with the immediate easter-end neighbours.