Group Captain Ravi Nanda (27686) Flying (Pilot) is the Commanding Officer of a C-130J Transport Squadron.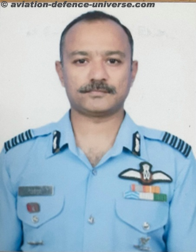 as a part of Operation Devi Shakti, he was tasked for a Special Operation into the destabilised war-torn nation of Afghanistan. The embassy staff had already been evacuated on 16 Aug 21, hence there was no source to achieve reliable ground intelligence. The officer was the commander of a mission to fly into the epicentre of the conflict zone of Kabul to insert a 'Specialised Government Team' for facilitating swift evacuation of Indian Diaspora under imminent threat to their lives.
The officer led this high-risk midnight mission facing the utmost dangers of an absolutely uncontrolled airspace, dense traffic of unknown aerial platforms, extremely limited visual cues in the middle of unforgiving mountainous terrain and above all, a hostile ground situation with small arms, rocket propelled grenades and shoulder launched missiles. A high level of unpredictability and danger existed due to lack of intelligence at the target airfield. The officer exhibited exceptional professional courage, grit & leadership in flying this perilous mission with unprecedented threats emanating from a volatile war zone in presence of radical militias. Amidst of a chaotic ground situation, ongoing sporadic gunfire in the vicinity of airport and possible threat to life and equipment, he effectively used Night Vision Goggles (NVG) to land safely at Kabul. He displayed sharp situational awareness, dynamic decision making and controlled his team of Special Forces to ensure safety of the aircraft for more than an hour. The officer planned an efficient tactical departure in dark night and also safely evacuated 87 Indians to Dushanbe.
For this act of exceptional courage, Group Captain Ravi Nanda is awarded Vayu Sena Medal (Gallantry)