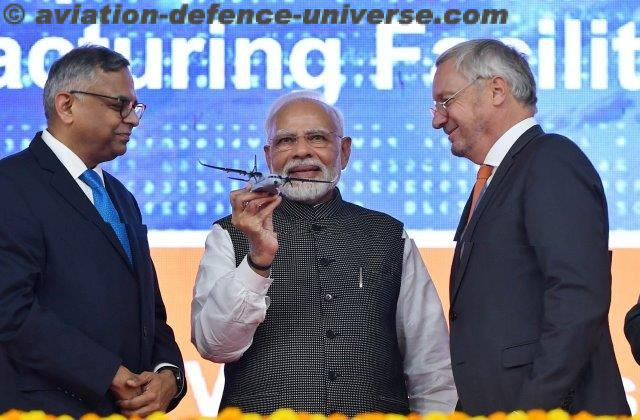 By Sangeeta Saxena
Vadodara, Gujarat. 30 October 2022. There was an air of expectency, as we got off from the An-32 which ferried a full flight strength of journalists from the national capital to the city of Vadodara formerly called Baroda. This city of the western Indian state of Gujarat was the cynosure of the country today as PM Narendra Modi was all set to create aviation history by laying the foundation stone of Tata-Airbus facility for manufacturing C-295 .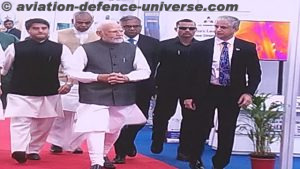 The moment was here and we boarded buses after a quick lunch with the Himalayan Eagles at Air Force Station Vadodara , to proceed to the venue of the event , the leprosy ground called Sati Anusuya Land. All the roads led to this large barren land, which today was the most treaded path. But what a visual surprise this journey was, with inumerable hoardings of the C-295, Tatas, Airbus, Prime Minister and Chief Minister lining the route and the bigger surprise was the presence of the common man in hundreds throughout this route. And the biggest surprise was the house full venue where people from all walks of life were patiently waiting to see the PM gifting their city this hi-tech bonanza. Over100 MSME suppliers will be associated with the project, which will help in realising the vision of 'Make in India, Make for the Globe'.
"It is historic day in the aerospace sector of New India towards being self-reliant. India today is making its own fighter plane, tanks, submarines. Not just that, India-made medicines and vaccines have saved countless lives across the world.Vadodara, the famous cultural and education center, will develop a new identity as an aviation sector hub. We are about to enter among the top three countries in the world with regard to air traffic. Growth momentum of India has been maintained despite pandemic, war and supply-chain disruptions. India is presenting opportunities of low cost manufacturing and high output. Today, India is working with a new mindset, a new work-culture. Today our policies are stable, predictable and futuristic. We aim to scale our defense manufacturing beyond $25 billion by 2025. Our defense exports will also exceed $5 billion," exhorted Prime Minister Narendra Modi,  after laying the foundation stone of the C-295 Aircraft Manufacturing Facility  here today.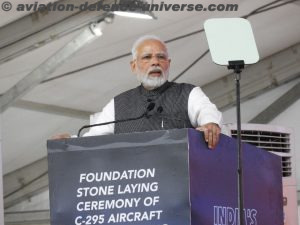 It has been a journey which started from Seville , Spain for C-295 and has reached India where the European  transport aircraft has found  a new customer – the Indian Air Force for whom 40  will be manufactured by Tata-Airbus, in India under the Make in India and Atmanirbhar Bharat schemes. 16 will come in fly away condition from the Final Assembly Line of the C-295 at Seville. Reminds me of my long association with this mid size military marvel of Airbus from the days of CASA C-295, then EADS C-295, post which Airbus Military C-295 and the current Airbus Defense & Space C-295. Seeing it being procured by Spain, Egypt, Poland, Canada, Brazil, Mexico, and Portugal and seeing it participating in international operations, including those in the former Yugoslavia, Afghanistan, Iraq, Lebanon, and Chad, reiterates the feeling that India made the right choice.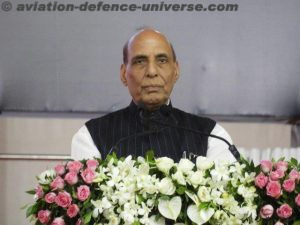 Defence Minister Rajnath who has been instrumental in the culmination of this deal said, " today, for the first time in the country, the foundation stone of an aircraft manufacturing facility is being laid by the private sector. It is certainly a matter of pride for the defence sector as well as for the entire country. It is not just a foundation stone but a milestone in the defence sector's 'Atmanirbharta' journey. C-295 aircraft manufactured at this facility will be state-of-the-art aircraft with superior capabilities and global standards. It will significantly enhance the logistic capability of Indian Air Force. C-295 as a state-of-the-art aircraft, with superior capabilities and global standards, that will unprecedently add to the logistical capability of the IAF. "It is a matter of utmost importance and great pride that all 56 aircraft will be fitted with indigenous Electronic Warfare Suite to be manufactured by Bharat Electronics Limited & Bharat Dynamics Limited. Hundreds of MSMEs from across the country will be a part of this project. It is a shining example of meeting the requirements of the Armed Forces with collaborative efforts of the private sector and DPSUs."
Beyond its use as a tactical transporter, the C-295 is capable of performing a wide variety of missions effectively. These included parachute and cargo dropping, electronic signals intelligence (ELINT), medical evacuation (MEDEVAC), and maritime patrol. Some of the equipment for adapting the aircraft to performing various roles has been mounted onto pallets, allowing for its rapid installation and removal.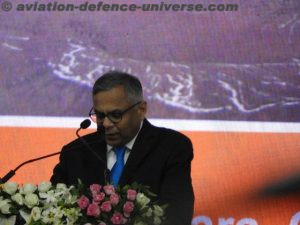 Speaking on the occasion of the laying of the foundation stone, N Chandrasekaran, Chairman, Tata Sons said, " With the set-up of the Final Assembly Line (FAL) in Vadodara, the Tata Group will now be able to take aluminium ingots at one end of the value stream and turn it into a Airbus C295 aircraft for the Indian Air Force. This is a historic moment not only for the Tata Group but for the country, as it embraces the Hon'ble Prime Minister's vision of being truly 'Atmanirbhar. I'm confident that this project will propel India into the next generation of advanced manufacturing. It'll build a diverse & very highly sophisticated skills ecosystem supplier base, & more importantly, give tremendous high-tech opportunities to young entrepreneurs & students. This will also catapult India to produce quality systems, which will help India to produce high precision & high-quality manufacturing products. "
He added , " This project was conceived 10 years ago by Tata Sons Chairman Emeritus Ratan Tata, who led the whole concept, built a relationship with Airbus & forged a partnership. I must thank him for his visionary leadership by leading from the front on this initiative." This reminds me of my small interaction with the doyen at Paris Air Show in 2019 where he responded to my question on getting Air India back to its folds by saying " Tata Sons' plans for aviation sector are bigger than just one deal ."
With 285 aircraft ordered and 38 operators in 34 different countries, the C295 has achieved more than 500,000 flight hours in all types of environments demonstrating the effectiveness and soundness of its system design.  It routinely operates in the hot and humid environments of the Brazilian jungle and Colombian mountains, in the dusty and very hot deserts of Algeria and Jordan, and in the extremely cold winters and icy conditions of Poland and Finland. It is a tactical transport of troops and ensures the required logistic supplies (water, food, ammunition, medical supplies, spare parts) from the main operating base to the forward bases and among forward locations despite short unprepared airstrips thereby giving it an edge over heavier aircraft.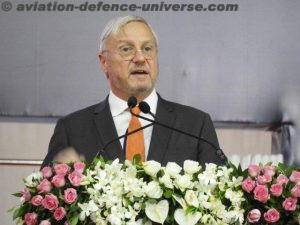 Christian Scherer the Chief Commercial Officer who is a Member of the Company's Executive Committee and also heads Airbus International said, "We accept with humility and a great sense of responsibility the trust and confidence that the Government of India reposed in  Airbus. In the Tata Group Airbus has a trusted and respected partner and  both our companies will work together to build an excellent final assembly line here in Gujarat. The C295 programme will kickstart a defence focussed private industrial ecosystem in this country and its execution will create thousands of jobs and a robust supplier base. The Gujarat C-295 Final Assembly Line is a direct product of  PM Modi's 'Make in India' policy. It made us reimagine business in India. India is not only a tremendous market it is also a strategic resource hub for us . A country with exceptional talent and competencies. We are constantly oncreasing India's contribution to our global products and can proudly say that every Airbus aircraft, every Airbus helicopter , every Airbus satellite produced is partly made in India already. At Airbus we 'Make in India, Design in India, Innovate in India and Train in India. Infact we like to think we are also Indian. We have strong affinities with this great nation and have a keen will to weave our destinies together. Make in India is in the heart of our business strategy and we will continue to contribute towards building a self reliant India. "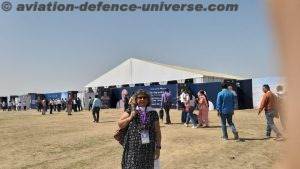 The indication was given when at the recently held Defexpo 2022 in Gandhinagar,  Airbus Defence and Space Quality Management System (QMS) for the C295 aircraft  received approval from the Directorate General of Aeronautical Quality Assurance (DGAQA), the Indian regulatory authority for aeronautical quality assurance. This is the first time a QMS of a foreign aircraft manufacturer has been approved by DGAQA.  The certificate of approval was handed over by Director General of DGAQA, Sanjay Chawla to Kajetan von Mentzingen, Head of Quality, Airbus Defence and Space at a ceremony held on the sidelines of DefExpo 2022.
Sixteen (16) aircraft will be delivered in flyaway condition. They are scheduled to be received between September 2023 and August 2025. Remaining forty (40) will be manufactured at the Vadodara manufacturing facility. The first Made in India aircraft is expected from September 2026. And the journey began today.