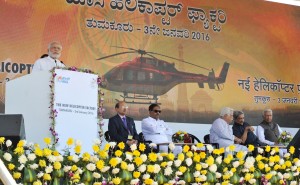 Bangalore. 3rd January, 2015. Prime Minister, Narendra Modi,  unveiled a plaque for the foundation stone of a new helicopter manufacturing unit of Hindustan Aeronautics Limited in Tumkur district in Karnataka. Speaking on the occasion, he said that the manufacturing unit coming up in Tumkur would not be an ordinary one, but one which would make the whole world take notice.
The Prime Minister recalled former Prime Minister Lal Bahadur Shastri's famous slogan – "Jai Jawan, Jai Kisan." He said that in the last fifty years, a lot of progress had been made in agriculture, and the country is now self-sufficient in food grains. He said the Indian Armed Forces were second to none, and now the time had come to ensure that the weapons and equipment they carried and used were also the best in the world. For this, he said, India needed to end dependence on imported weaponry, which is expensive and is not of the latest technology.
Narendra Modi said the Union Government has decided to lay stress on manufacturing of defence equipment. He said the helicopters manufactured in Tumkur will serve soldiers stationed in remote locations.The Prime Minister said that the first helicopter built in this unit should take flight by 2018. He added that 4000 families will directly or indirectly get livelihood due to this factory. He recalled Dr. Babasaheb Ambedkar's vision for industrialisation in India, as a means to empower the poor and downtrodden, and said this manufacturing unit is also a step towards fulfilling that vision.
The Governor of Karnataka  Vajubhai Vala, the Chief Minister of Karnataka  Siddaramaiah, Union Ministers Manohar Parrikar were present on the occasion.