By J K Verma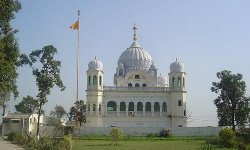 New Delhi. 18 March 2019. Pakistan's doublespeak was fully exposed during the first meeting, held at Attari on 14th March 2019, between Indian and Pakistani delegations concerning the construction of Kartarpur Sahib Corridor. The meeting was held to settle the process of the building of Kartarpur Sahib Corridor which will link Dera Baba Nanak shrine in Gurdaspur in India to the Sikh Shrine in Kartarpur Pakistan. The Indian delegation forcefully protested against the widespread "encroachment" of the Gurudwara land on the name of construction of a corridor for the benefit of pilgrims.
The Indian officer who was the part of delegation mentioned that Pakistan wanted to earn the goodwill through empty and false promises. Indian delegation strongly demanded about the restoration of all the illegally occupied land of the Gurdwara as the sentiments of whole of India are hurt by this illegal seizure of the religious land. The land was donated to Gurudwara by devotees including Maharaja Ranjeet Singh and Pakistan government has no right to usurp it.
At the time of finalising the terms and conditions of the Kartarpur corridor the ulterior motive of Pakistan was totally unmasked. Islamabad wanted the agreement just for two years while India stressed that the contract must be for a much longer period as India would spend about Rs.190 crores in providing long-lasting and wide-ranging facilities to the pilgrims. The members of Indian delegation revealed that there were vast differences between the promises made by Imran Khan and what Pakistan delegation offered in the first meeting. Pakistan promised a visa-free entry, however now it imposed the need of special permit and also put a fees. Pakistan authorities introduced the requirement of special permit through back-door and in this way killed the basic spirit of the dedicated corridor.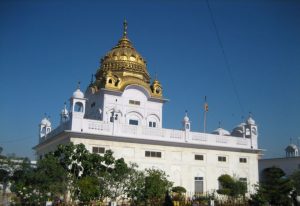 The analysts mention that the clause of special permit was put so that the visa officers who are from Inter Services Intelligence (ISI) can establish contact with the pilgrims. The special permits and use of corridor are restricted to Indian passport holders while the holders of Overseas Citizens of India (OCI), who are persons of Indian origin, were omitted from this scheme. Guru Nanak Dev was the founder of Sikhism and stayed in Kartarpur for about 18 years until his death in 1539. The gurudwara was constructed at the place where Guru Nanak Dev took his last breath. The founder of Sikhism has an universal appeal hence prohibition of OCI from granting of Special permit is unwarranted and discriminatory.
Indian authorities are making sincere efforts so that the journey of Indian pilgrims to Kartarpur Gurudwara is smooth and relaxed, however now it is apparent that Pakistan wants to put rigid and stringent conditions so that they control the visit of the pilgrims. India will be constructing a beautiful passenger terminal which will accommodate 5,000 pilgrims daily and about 15,000 pilgrims on Vaisakhi and other religious festivals, while Pakistan wants to restrict the number to 700 only. India also proposed that pilgrims can visit on foot as it is an important part of pilgrimage. India also proposed that the pilgrims can visit individually and from dawn to dusk, all days and throughout the year but Islamabad wanted to fix the days for the visits. Pakistan also refused to accept these basic conditions and Islamabad contended that pilgrims should move in groups of 15 and only through vehicles. Pakistan government and press gave wide publicity to the opening of Kartarpur Corridor but in the first meeting the bluff and deception was exposed.
In 1974 when Memorandum of Understanding (MOU) was signed by India and Pakistan India insisted for the inclusion of Kartarpur in the list of shrines where the pilgrims can visit but Pakistan refused to include Kartarpur. In the MOU, 15 shrines in Pakistan and seven shrines in India were included where the pilgrims of each other's country can visit. in 1999 Indian Prime Minister Atal Bihari Vajpayee demanded for a visa-free access at Kartarpur while another Prime Minister Dr. Man Mohan Singh requested for a corridor in 2004. In both these occasions Pakistan refused to accept these proposals.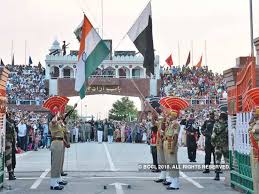 Kartarpur Gurudwara is in Narowal district of Pakistan and is about four kilometres from the international borders. On 26th November 2018 Vice President M Venkaiah Naidu and Punjab Chief Minister Amarinder Singh laid down the foundation stone of Kartarpur Corridor at Gurdaspur while Imran Khan laid the foundation stone after two days at Narowal. 550th birth anniversary of Guru Nanak Dev is falling in November 2019 and Indian authorities are trying that Kartarpur corridor starts on or before the birth anniversary of Guru Nanak Dev.
The technical experts of both the countries will meet on March 19 at zero line to finalise the alignment of the corridor from India and Pakistan. The delegations will meet again on 2nd April at Wagah inside Pakistan.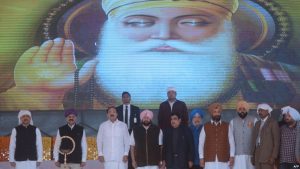 As Pakistan's game plan was unearthed in the first meeting and Indian delegation took a stringent stand on the usurpation of sacred land of Kartarpur sahib Gurudwara, Pakistan government retorted that India has no locus-standi and it cannot object. Pakistan government also claimed that as a sovereign country it has right to utilise the land within the country and India has no right to object or give instructions. Pakistan also made it clear that in its 1992 proposal it made it clear that the facility of special permit will be restricted to Indian citizens only.
Pakistan side became offensive when its dilatory tactics were exposed. Islamabad alleged that purposeful leaks were made by the delegation to defame the country. Islamabad further alleged that Indian side is adhering to these focused leaks due to the forthcoming elections.
Nonetheless the attitude of Pakistani delegation, the usurpation of holy land of Kartarpur Gurudwara, putting the stipulations of permit and fee clearly indicates the hogwash of Pakistan especially of Imran Khan. The apologists of Pakistan should also reconsider their viewpoint, as Imran Khan's peace initiative was with malicious intention of creating a hype that Islamabad wants to have cordial relations with India but in reality, it was a hoax. Pakistan's false promises have aroused the feelings of whole of India especially of Sikh community, but its retracing of steps would certainly dampen their sentiments.
There are confirmed reports that the sinister ISI is instigating foreign pro-Khalistan Sikhs to revive Khalistan issue. ISI also helped The Sikh for Justice (SFJ) which organised "London Declaration on Referendum 2020 for Sikhs" on August 12. According to intelligence reports Gurpatwant Singh Pannun, is a New York based pro-Khalistan Sikh, has close relations with ISI officials. Sometime back SFJ put pro-Khalistan posters in Punjab and the Punjab government has already initiated legal action against it. SFJ also announced that during the month of November 2019 the outfit would organise a referendum in Kartarpur to ascertain how many Sikhs wants an independent Khalistan. Intelligence agencies as well as Indian High Commission in Islamabad should be vigilant that SFJ does not mislead the Sikhs.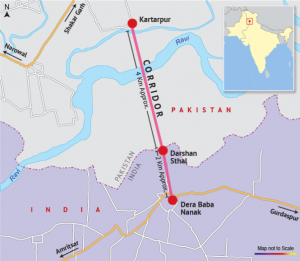 Indian security agencies should also be careful as Pakistan has already waged a low intensity war against India and assisting diverse terrorist outfits which are carrying out terrorist activities in whole of country especially in the Kashmir valley. Pakistan wants to show to the world community that it wants to have peace with India while it also desires to please Sikhs of all over the world by opening Kartarpur corridor. Indian intelligence agencies should also be careful that Pakistan does not utilise the opening of Kartarpur corridor to escalate pro-Khalistan sentiments. In past ISI used visit of Indian and foreign Sikhs in Pakistan for Khalistani propaganda and even beating of Indian diplomats who were on duty.
(Jai Kumar Verma is a Delhi-based strategic analyst and member of United Services Institute of India and Institute for Defence Studies and Analyses. The views in the article are solely the author's. He can be contacted at [email protected])