Second Generation Beacon for GALILEO/EGNOS Search and Rescue applications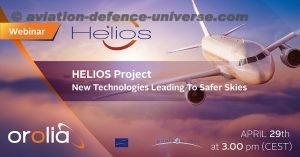 Guidel. 23 April 2021. To mark the five-year anniversary and completion of the Helios Project, a major European initiative funded by the European GNSS Agency, Orolia will host an interactive webinar to present the key milestones, with a specific focus on the recent successful flight tests. These tests have demonstrated and qualified the GADSS global aircraft safety program's end-to-end Emergency Locator Transmitter Distress Tracking (ELT-DT) system, including Orolia's Ultima-DT solution. 
This series of flight tests has been led by Orolia with the support of French and Spanish government partners such as France's CNES, the Spanish and French Air Traffic Service Units, the Spanish and French Mission Control Centers, the Spanish and French Rescue Coordination Centers, as well as two major Airline Operation Centers from Air France and Iberia.
Panelists will discuss this first opportunity to evaluate a system-level implementation of the new Global Aeronautical Distress Safety System (GADSS), particularly its Autonomous Distress Tracking component (ADT), but also about the impact for future commercial aircraft.
This project has received funding from the European GNSS Agency under the European Union's Horizon 2020 research and innovation programme under grant agreement No 687554.