The ball is in the government's court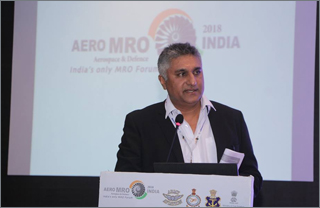 New Delhi. 15 April 2020. As defence budgets increase every year, so does the need for the exclusive Maintenance Repair & Overhaul ( MRO ) facilities for the armed forces. If this is a growing global requirement, India cannot be left far behind. With Indian Air Forces' long list of acquisitions, Indian Navy all set to add to its numbers of air birds and Indian Army's not so long but long awaited additions to its fleet , optimism should be the mood of the day for military MROs in India. And ofcourse not to forget the already existing air power the three forces have. Are we just about to witness a new era in the military MRO business in India? Lets here it from the horses mouth. Bharat Malkani, Chairman of Max AeroSpace and Aviation Pvt Ltd spoke exclusively to Aviation & Defence Universe (ADU) on the status quo and future of military MROs in India.
ADU. Has the decision of lessening the GST for the MRO industry affected the defence MROs?
BM. No the impact of GST will impact only the Civil MRO companies. Defense MRO's remain unaffected as contracts made are normally with a clause, taxes as applicable.
ADU. Defence MRO in India is largely captive with the Army, Navy and Air Force supported to an extent by HAL and the forces' own systems of maintenance. What are the scopes they leave for private MROs?
BM. The scope for private MROs' are extremely limited and the kind of work offered is typically 'part tasking'. In Part Tasking the private MRO is required to usually supply just touch labour on a L1 basis. Most of the works offered do not even require the bidding company to have a minimum standard like CEMILAC or AS9100D certification to be pre-qualified.
ADU. Is there a growing awareness within the Indian Defence establishment on the value of outsourcing non-core maintenance activities to third party operators?
BM. The scope of Military MRO in India is substantially larger than Civil. However, the value brought in by private Indian industry is still to be recognized by the establishment. Indian Civil MRO companies have kept over 500 airliners and 250 private aircraft in the air with an impeccable safety record. Most of these aircraft are very modern with complicated systems. This speaks volumes about the capability of the Indian private MRO industry. While these resources can be tapped the opportunity is still to be addressed by the DPSUs and forces.
ADU. The revised Defence Procurement Procedure (DPP) outlines key changes which provide establishment of public private partnerships as well as qualification of MRO under offset guidelines which will further the setup of MRO capabilities in country. What is the current status of defence MROs in India?
BM. We are still to see robust PPP programs executed. We understand that policies that determine their sustainability are under process. Defense MROs in India are few and limited to doing very small amounts of work, with the exception of some that work on similar aircraft that are used in the Civil aviation market.
ADU. The global military MRO is a multi-billion dollar industry growing at a robust rate year-on-year; however the Indian market is still to catch up. Please given reasons why?
BM. The Indian Government has invested heavily into the development of DPSUs as well as the MROs' which managed and owned by the forces themselves. It will require a paradigm shift for the Government to recognize the value of the private Indian industry to enter these locations and bring about changes into managing the way these establishments are operated. Various concerns are elucidated many of which are valid, but can easily be overcome with a positive approach. Indian industry is no less patriotic than those employed in Government.
ADU. Do you have all the three formats- transport , rotorcraft and multi-role aircraft MRO activities in your MRO for the forces?
BM. Yes, Indian industry is capable of handling all forms of transport aircraft. Having said that the initial phase as mapped by us would require certain trainings to be offered to Industry for high speed aircraft, whose domain knowledge exists today with the DPSUs' and the forces. Once Indian private industry is able to enhance their capabilities then we have no reason to believe that we would not be globally competitive not just for MRO but also manufacturing. It's a globally acknowledged fact that once an organization becomes proficient at MRO and has been able to imbibe the technology and knowledge that the next step is modifications of the aircraft and systems leading to full manufacturing.
ADU. Has UAV MRO picked up in India?
BM. There is not enough knowledge of UAV MRO in India by the Indian industry at this stage and as such I cannot answer this question accurately.
ADU. What is the scope to private MROs in fighter aircraft MROs?
BM. Scope of private MRO in fighter aircraft is as large as the scope of transport MROs in India. There is no reason why Indian industry cannot absorb this technology and propel itself onto a global platform. It is a known fact that there are thousands of the very same Indians employed in the large global MROs' and manufacturing OEMs' who are successfully executing these very same jobs for their foreign employers. What is missing here is the lack of opportunity. If we are able to offer the huge Indian technical population living abroad then the chance to deliver these products and services in their own nation, we can expect some (if not a large number) of them to return home with their state of the art technical skills and knowledge.
ADU. Do you also do trainer aircraft MRO?
BM. We have done trainer aircraft MRO and assembly in our organization and are more than capable of handling the same.
ADU. Where do you see the defence MROs in the next five years?
BM. Unless there is a political will to make this paradigm shift to invest in 'FAITH' into Indian private industry to deliver results to our forces the rate of progress will be low.