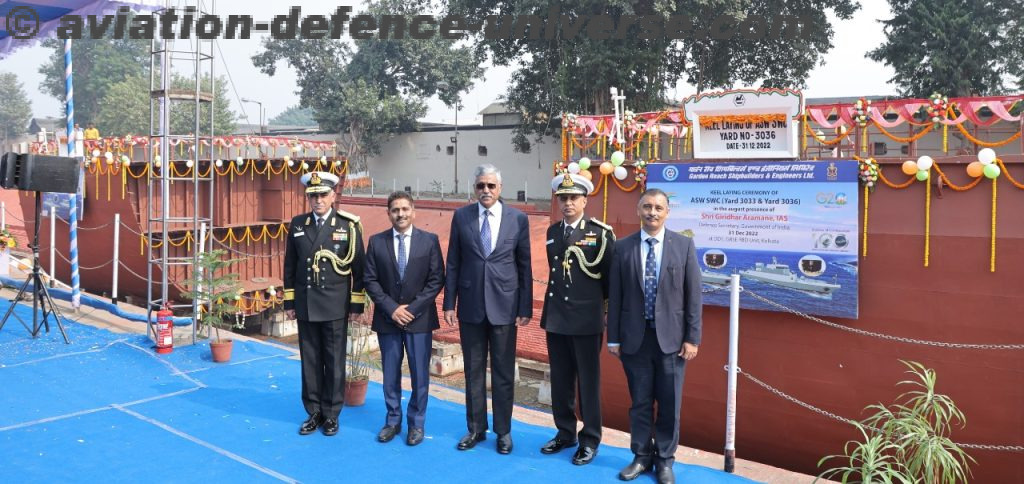 Kolkata.  31 December 2022. The last day of 2022 turned out to be yet another Red-Letter Day for Garden Reach Shipbuilders and Engineers (GRSE) Ltd with the shipyard delivering an in-house designed warship to the Indian Coast Guard and laying the keels of two yet again in-house designed ASWSWCs for the Indian Navy within a span of a few hours.
The day started with the delivery of ICGS Kamla Devi, the 5th Fast Patrol Vessel (FPV) of its class built by GRSE to the Indian Coast Guard. Later in the day, keels were laid at the Rajabagan Dockyard (RBD) in Kolkata for the 5th and 6th Anti-Submarine Warfare Shallow Water Crafts (ASWSWCs), being built by GRSE for the Indian Navy. The important milestone heralding the start of a ship's construction at site was achieved in the presence of  Giridhar Aramane, Defence Secretary, GoI. Vice Admiral Kiran Deshmukh, AVSM, VSM, Controller of Warship Production & Acquisition, Cmde P R Hari IN (Retd), Chairman and Managing Director, GRSE, R K Dash, Director (Finance), GRSE, Cdr S Bose, IN (Retd), Director (Shipbuilding), GRSE, other Senior Officials of GRSE and Indian Navy also witnessed the ceremony.
As per GRSE's custom, the keel laying of 5th & 6th ASWSWC were done by senior operatives of GRSE  Kallol Chakraborty & Nemai Ch. Santra respectively. The important milestones of Ship Production involve the process of Cutting of steel which is called the 'Start Production' stage followed by 'Keel laying' subsequent to which, the other blocks are built around the keel block. These ASWSWC vessels are classed by IR Class.
In line with the Government of India's Start Up India Mission, GRSE engaged with a start-up, M/s Tvasta Manufacturing Solutions Pvt. Ltd. to construct a 3D Printed Site Office at RBD Unit which shall be used for project monitoring of the ASWSWCs. The '3D Printed Site Office project', a Technology Demonstrator, at GRSE was inaugurated by the Defence Secretary. Thus project was designed and executed in 10 days using off-site construction methodology by printing the modules offsite.
Speaking at the Twin Keel laying Ceremony, Commodore P R Hari, IN (Retd), Chairman and Managing Director, GRSE mentioned, "The first ship of the series of 8 Shallow Water Crafts was launched just 10 days back and Keels of 5 more are being laid including these two. We are indeed on the right track and we are very confident that we will meet the expectation of our most valued customer- The Indian Navy. The Rajabagan Dockyard was a facility that GRSE took over and today it is a full-fledged ship building unit capable of end to end ship construction for medium and small sized warships. GRSE symbolises Aatmanirbharta in warship building. The Anti-Submarine Warfare Shallow Water Craft Project highlights the ship building & design prowess of the Indian Shipyards, as so far such ships capable of ASW Operations in Shallow Water were being imported and it is the first time that ships of such kind are being built within the country and it is to the credit of the entire warship building fraternity that GRSE was awarded Raksha Mantri's Trophy for the best design this year for this particular project".
In his address, Defence Secretary Giridhar Aramane stated that " A ship meets all the facilities required to make a human community live and work and contribute to the nation which means that the economy itself is represented in a ship. Ship building contributes to the growth of several sectors including infrastructure, manufacturing, services, electronics & software. So when we acquire the skill set over a period of time, it enables the country to acquire several related skill sets. I am very happy that GRSE has received several accolades by achieving several distinctions in these activities. Aatmanirbharta in the defence sector is a must. I am very happy that there is very good collaboration between GRSE, Indian Navy and Indian Coast Guard. We should continue to design and develop in the country. I am happy to note that GRSE has contributed in a major way with 108 warships deliveries. I congratulate the employees of GRSE for the excellent performance".
Once built, these ships will be capable of full-scale sub-surface surveillance of coastal waters as well as Search and Attack. These ships will have Combat Management Systems on board and will be armed with lightweight torpedoes as well as anti-submarine warfare rockets. These waterjet propelled ships will have greater manoeuvrability and a maximum speed of 25 Knots. The greatest advantage is that these vessels will require a draft of only 2.7-metres, allowing them to access the coasts easily in search of sub-surface threats.
This morning, DIG Shajen Kurian, TM, PD (MAT), accepted the delivery of ICGS Kamla Devi, the last in the series of five FPVs built by GRSE for Indian Coast Guard. GRSE has proven expertise in design & construction of patrol vessels having delivered over 40 such ships to the Indian Navy and Indian Coast Guard since 1960. The entire design of these latest FPVs have been developed in-house by GRSE as per requirements specified by the Coast Guard.
These ships are 48.9-meters-long and 7.5-meters-wide with a displacement of around 308 Tons and are designed for a maximum speed of 34 knots with an endurance of more than 1500 nautical miles. These ships are equipped with three Main Engines with advanced control systems, Water Jet units and an 'Integrated Bridge System' integrating all Communication and Navigation Systems. These ships are also fitted with 40/60 Gun as main armament and also have improved habitability features with fully air-conditioned modular accommodation for 35 personnel. These ships are used for anti-smuggling, anti-poaching and rescue operations at sea.
GRSE is the only shipyard in the country to have delivered 108 warships till date and at the moment, the shipyard is constructing 23 ships including 15 warships of three different projects for the Indian Navy.