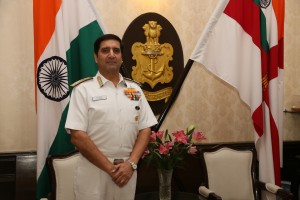 Interview: Chief of the Naval Staff, Admiral Rabinder "Robin" Kumar Dhowan , PVSM, AVSM, YSM, ADC
New Delhi. 03 December, 2015." The purpose of the maritime security strategy is to maintain, develop and deploy the Indian Navy as a combat ready, technology driven, networked force, which would safeguard India's evolving national maritime interests into the future and provide net maritime security across India's areas of interest. We will maintain our preparedness levels as appropriate to the maritime security environment. Our perspective plan has also been designed to deliver required capabilities, taking into account the developments and trends in our maritime neighbourhood," said Chief of the Naval Staff, Admiral Robin Kumar Dhowan, in an exclusive interview with Aviation & Defence Universe , on the ocassion of Navy Day, 2015.
ADU. What are the major issues of preparedness that concern you as the Chief of the Indian Navy and how do you plan to encounter them?
CNS.   The Indian Navy needs to maintain a high degree of readiness at all times to protect India's maritime interests, in order to effectively confront the multifarious challenges emerging in a complex maritime environment,. To achieve this, we will need to optimise every resource, embrace innovation and maximise indigenisation and self-reliance, so as to generate credible combat power for accomplishing missions across the full spectrum of naval operations. Our key enablers for achieving requisite preparedness are quality maintenance, timely infrastructure modernisation and efficient logistics management, supported by development of effective leadership at all levels and generation of highly trained, motivated and skilled professionals. We are according the highest priority to these enablers.
 ADU. Keeping in mind the depleting submarine strength, how near are we to getting the Scorpene and Arihant to become a part of the Indian fleet?
CNS. Construction of all six submarines under the P 75 programme is progressing concurrently at Mazagon Dock Shipbuilders Ltd (MDL) in a satisfactory manner. The envisaged delivery of the first submarine, Kalvari, is likely in end September 2016 with the balance submarines being delivered at regular intervals thereafter. Harbour trials of Kalvari are in progress at MDL, and sea trials are scheduled to commence shortly. Since this submarine is the first of her class, the trials are being progressed with due care. All efforts are being made to ensure timely induction of our submarines, and we are making steady progress as per the plan.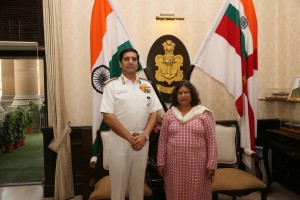 ADU. Are Pakistani naval expansion and Chinese ships coming too close for comfort, matters of security concern to you? Do you think that the aircraft carriers need to be always in a state of alert?
CNS. The Indian Navy constantly monitors all activities of interest in our maritime neighbourhood, and factors the same into our maritime plans. As the principal agency for maritime security, there is a range of actions that the Navy undertakes under its military, diplomatic, constabulary and benign roles. These are essentially centered on forging a peaceful, stable and secure maritime environment, by strengthening our own capabilities, maintaining presence and surveillance in our areas of maritime interest, and developing friendly, cooperative relations in the maritime neighbourhood. In the revised strategy document of the Navy, which was released by the Hon'ble Raksha Mantri during the Naval Commanders Conference on 26 October 2015, we have defined our overarching strategy for maritime security. This includes dedicated component strategies for various aspects, including for 'deterrence', for 'shaping a favourable and positive maritime environment', and for 'maritime force and capability development'.
ADU.  A case which is pending is to replace the 30 to 40 years old Chetaks with Naval Utility Helicopters (NUH). When will this happen?
CNS.   The NUH will be a replacement for the Chetak helicopters. It is proposed to be a light weight, twin-engine, wheeled helicopter. The NUH RFP has been re-initiated under 'Buy and Make (Indian)' categorisation, and will be taken up as part of the 'Consolidated Helicopter Acquisition Strategy' under the new Defence Procurement Procedure. We are confident that some of the private sector companies will be able to undertake this project under the 'Make in India' thrust. This would also provide much required fillip to the acquisition of technology in niche areas such as helicopter manufacturing.
 ADU.  The Navy has been wanting to buy 16 more Advanced Light Helicopters (ALH) from HAL. Has the order been placed?
CNS. The primary role of the naval ALH for coastal security includes shore-based surface and sub-surface surveillance, with secondary roles as envisaged for conventional naval helicopters. The aircraft is designed for operations by day and night, including in adverse weather. The naval ALH for coastal security will be a wheeled version helicopter with blade fold capability. A joint Indian Navy and Coast Guard case for ALH for coastal security, with the Indian Coast Guard as the lead service, was accorded 'Approval of Necessity' by the Defence Acquisition Council in 2014. The case is currently being processed in accordance with the DPP.
ADU.  Has the revision of piracy High Risk Area (HRA) affected the Indian Navy's role in the Indian Ocean?
CNS.  To protect Indian-flagged ships and Indian citizens employed in sea-faring duties, the Indian Navy commenced anti-piracy patrols in the Gulf of Aden from 23 October2008. Since then, a total of 53 Indian Naval ships have been deployed in the Gulf of Aden. In addition to escorting Indian flagged vessels, our ships have also escorted ships from other countries. Nearly 3,200 ships, including more than 350 Indian flagged and 2,800 foreign flagged, from approximately
50 different countries, and almost 25,000 Indian seamen have been escorted by Indian Naval ships through the Gulf of Aden. During deployments for anti-piracy operations in the Gulf of Aden and Arabian Sea, Indian Naval ships have thwarted
40 piracy attempts on merchant vessels. As a result of intensive deployments by the Indian Navy and Coast Guard, the threat of piracy attacks greatly reduced in this area. In fact, there has been no piracy incident within 500 nm from our West Coast since April 2012. As a follow-up to these actions, the Indian Navy, in coordination with other Government agencies, took up the case for revision of the High Risk Area (HRA) of Piracy, the eastern limit of which earlier extended up to
78°E longitude, to cover the Indian coastline. Due to a sustained national effort, in which Indian Navy played a pivotal role, the Contact Group on Piracy off the Coast of Somalia (CGPCS) announced on 08 October 2015 that the HRA will be revised to 65°E longitude with effect from 01 December 2015.
With the revision of the HRA, some of India's maritime security concerns, such as floating armouries and proliferation of private security on merchant ships in our neighbourhood, as also the increased security concerns of ships transiting through our maritime zones and affecting our fishing community, are likely to be addressed. In addition, Indian ship-owners are likely to benefit significantly on account of savings on insurance and associated operating costs. The Indian Navy remains committed in its role of ensuring freedom of navigation in the global commons and strengthening maritime security in the region, especially in the East Arabian Sea. Towards this, Indian Naval ships and aircraft will continue to escort merchant ships of all nations in the Gulf of Aden, and we will remain ready to counter threats to maritime security.
ADU. The Indian Navy is firmly committed to Prime Minister Narendra Modi's "Make in India" project. Elaborate please.
CNS.  The Indian Navy has been a pioneer in the field of indigenisation. The Navy is proud of the fact that all  47 platforms under construction today, ranging from an aircraft carrier to submarines are being built in Indian shipyards, both public and private. Concerted efforts are underway to indigenise weapons and sensors in collaboration with DRDO and the private sector. We have achieved significant success in the development and production of radars, sonars, decoys, EW systems, combat management systems and small and medium calibre guns.
A dedicated directorate, the Directorate of Indigenisation, is responsible for steering indigenous development of equipment and systems required for our ships and submarines. As part of 'Make in India' drive, we have formulated a plan that covers a 15 year period from 2015 to 2030. This plan, called the Indian Naval Indigenisation Plan (INIP) 2015-30 was released by the Hon'ble Raksha Mantri during a seminar on Innovation and Indigenisation, which was hosted by the Indian Navy along with the Confederation of Indian Industry (CII) in July this year. The INIP 2015-30 has also been uploaded on the Navy's website and on the CII website, for access by the Indian industry. The document enumerates the major technology areas and capabilities that the Indian public and private sector industry may focus on, to meet the indigenisation needs of the Navy. Various equipment and systems proposed to be indigenised for the Navy over this 15 year period have also been listed in the INIP. The INIP is, thus, a major enabler of 'Make in India' drive, which will further boost indigenous development of equipment for naval platforms, within our own country.
Currently, we have achieved 80%-90% in the 'Float' component, about 60% in the 'Move' component, and about 30% in the 'Fight' component. The 'Make in India' initiative will enable us to further enhance our indigenisation levels and it will be our endeavor that future warships are 100% made in India. We also seek to harness this initiative for our aviation sector and achieve similar success as we have done for shipbuilding.