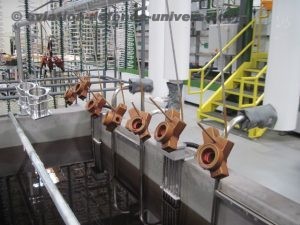 Santa Clarita. 28 June 2019. Nasmyth TMF, Nasmyth Group's state-of-the-art specialist metal finishing facility in Southern California has been awarded Nadcap accreditation for Chemical Processing. This complements the Nadcap approval that Nasmyth TMF already holds for Paint and Non-Destructive Testing.
Officially opened in March, this new facility leads the market, not only in the Santa Clarita Valley, but is also ideally placed to serve the Aerospace and Defense markets, not only of the US West Coast and indeed the rest of the US and Canada.
Utilizing the latest technologies in processing, control, filtration and waste produce management, Nasmyth TMF provides a variety of metal finishing treatments across its new processing lines, including: complex masking; Tartaric Sulfuric and Boric Sulfuric anodizing (TSA and BSA); chemical cleaning; surface finishing; painting; and quality testing (non-destructive testing, dye penetrant inspection and magnetic particle inspection).
Currently serving over 60 Aerospace and Defense OEMs, Nasmyth TMF has an outstanding reputation for reliability, precision quality and rapid turnaround times and is proud to have now achieved zero discharge of any potentially toxic waste into the water system; an achievement which sets it apart from other similar manufacturing plants in the region.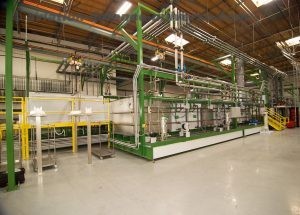 The internationally recognized Nadcap accreditation system covers all of the key manufacturing and production processes used within the aerospace industry. To secure this new accreditation, Nasmyth TMF underwent a rigorous audit procedure spanning the equipment and chemical treatment procedures it employs as well as the qualifications and experience of its staff.
Geoff Folkes, Executive Vice President at Nasmyth TMF, commented:
"We are extremely proud to receive this Nadcap approval as further recognition of the quality of our new metal processing facility here in Valencia, California. The new fully compliant facility gives us an environmentally friendly processing plant for the future with plenty of capacity for expansion. We plan to double the workforce over the next 10 years and as we grow, we will be looking to recruit team members locally as the Valencia community is known for its manufacturing and aerospace skills. We will compliment this with excellent training from local establishments."
Peter Smith, President of Nasmyth TMF and Chairman and Owner of Nasmyth Group, added:
"This facility in California is so advanced that it underpins Nasmyth Group's position as a world leader in providing the latest and most environmentally friendly, metal finishing treatments."