Paris.19 June 2019. Nasmyth Group, a global supplier of precision engineering and metal treatment solutions, has been investing globally to ensure that its processes are the most technically advanced in the world.
Nasmyth Group includes three specialist metal treatment companies: Nasmyth TMF in Southern California, Nasmyth West Middlesex in Uxbridge, UK and GEB Surface Treatments in Nottinghamshire, Midlands UK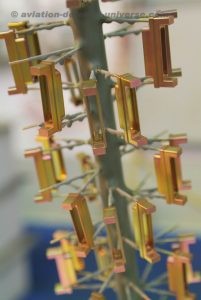 Officially opened in March of this year, the new Nasmyth TMF state-of-the-art specialist metal finishing facility is unique in Southern California and is perfectly placed to serve the aerospace & defence markets across the US and Canada. The new processing facility has enhanced technical capability and the business offers an unmatched range of specialist services, including complex masking; Tartaric Sulfuric and Boric Sulfuric anodizing (TSA and BSA); chemical cleaning; surface finishing; painting; and non-destructive testing.
Nasmyth TMF was recently awarded Nadcap accreditation for Chemical Processing, complementing previous awards it holds for Paint and Non-Destructive Testing.
Nasmyth West Middlesex facilities are being expanded and with the support of Nasmyth Group, the company is investing in new equipment to deliver specialised metal coatings along with decorative and corrosion preventative solutions. The facility is not only seeing the refurbishment to its existing site but is building on an adjacent site to allow further expansion. The company is also Nadcap-approved for Chemical Processing and NDT, validating its ability to provide a comprehensive service for aerospace & defence and associated industries in the South of England.
Offering a range of critical metal processes for a variety of applications, GEB Surface Treatments, Nasmyth Group's third specialist treatment facility, is investing in new larger processing tanks to provide increased capacity and an opportunity to treat larger components and is planning further expansion and to build on its established base of long-term customer relationships.
Equipped with both manual and automated plants, GEB Surface Treatments is able to offer a highly competent processing service along with technical engineering and production skills enabling it to be a leading player in this industry.
Peter Smith, Chairman and Owner of Nasmyth Group, commented:
"Our continuing investments in our specialist metal treatment businesses will strengthen Nasmyth Group's position as a world leader in providing the latest technology, and most environmentally friendly, metal finishing treatments. Nasmyth Group are proud to have the capability to work with all of the highest performance metals, we are also able to do so in a way that respects the needs of the planet."
Having developed long-term strategic partnerships with a number of its aerospace customers, Nasmyth Group manufactures everything from airframe assemblies to engine and instrumentation components for commercial airliners, business jets, military aircraft and helicopters. In addition, the Group provides a reverse engineering service for legacy aircraft and is fully equipped to fulfil repair, overhaul and retrofit contracts.
Nasmyth Group is showcasing its wide-ranging aerospace experience and expertise, both in terms of precision engineering as well as metal treatments this week at the International Paris Air Show in Hall 2B on Stand G139.