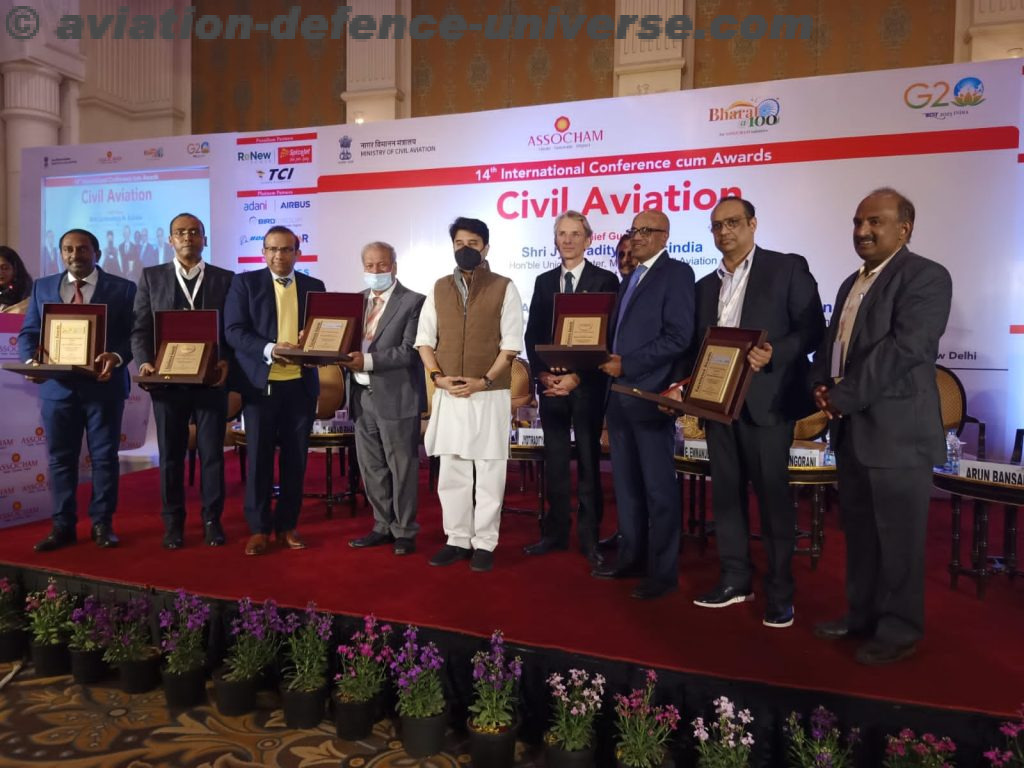 Mumbai. 18 January 2022.  In recognition to Mumbai's Chhatrapati Shivaji Maharaj International Airport's (CSMIA) resilient efforts in contributing to make aviation sustainability a reality, the airport has been awarded the 'Best Sustainable Airport of the Year' by the Associated Chambers of Commerce & Industry of India (ASSOCHAM) in its 14th International ASSOCHAM Conference & Awards for Civil Aviation. The coveted award was presented by Honorable Union Minister of Civil Aviation, Mr. Jyotiraditya M. Scindia, today, 18th January 2023 at Hotel Leela, New Delhi.
The ASSOCHAM 'Best Sustainable Airport of the Year' award is another addition to various prestigious laurels received by CSMIA in the past.
Recently, Mumbai's Chhatrapati Shivaji Maharaj International Airport (CSMIA) achieved the Highest-Level 4+ "Transition" of Airport Carbon Accreditation (ACA) program of Airport Council International (ACI), making it only the 3rd airport to achieve the esteemed certification in the Asia-Pacific region.
As part of its effective implementation of Carbon Management Plan, CSMIA initiated various path-breaking projects:
Entirely switched to green sources for its energy consumption needs, making CSMIA one of India's 100 percent sustainable airports
Onsite Renewal Power Generation plant augmented to 4.65 MW capacity
Installed unique Vertical axis wind turbine & solar PV system of capacity 10KWp in March 22, with 4 additional units to be installed in FY 23
6 EV charging station installed for encouraging EV usage at airport
Conversion of higher Global Warming Potential (GWP) refrigerant in AC's and Chillers to lower GWP refrigerant
Emphasizing on the need to reduce, reuse, and recycle, CSMIA has also installed Reverse Vending Machines (RVM) to encourage passengers and the airport community to recycle Plastic bottles.
The RVM can accept and compress 450 bottles per hour and can compress about 70% of the waste so that it can be easily transported to recyclers thus saving key resources, emissions & cost liable for transportation and logistics.
Retrofit for EC fan at AHU at Terminal-2, CSMIA, Mumbai.
Replacement of CO2 based fire extinguishers with non- CO2 based (ABC type) fire extinguisher to reduce the carbon emissions. 50 % replaced.
MIAL owned 45 conventional fuel vehicles are being replaced with EVs
Plastic waste (PET bottles) recycling through installation of Reverse Vending Machines
132 numbers of stakeholder equipment/vehicles operating at airport are Electric
Offsite waste disposal emission reduction by reuse and channelizing waste to recycle
Reduction in taxi time and congestion by collaboration with AAI, Airlines and MIAL operations
Infrastructure runway re-carpeting, upgradation and strengthening of taxiways etc. help in landing and take-off emission reduction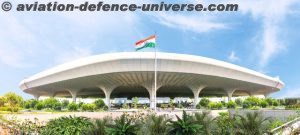 This recognition is a testament to the efforts put forth by the airport in its endeavour to create a better & greener future for the aviation industry while providing a world class experience and comfort to all its passengers. The award does not only honour the hard work put forth by the airport, but also recognizes best-in-class services and innovations that are implemented timely. Even with various ongoing green initiatives, CSMIA does not compromise in the quality of their services and strives to achieve maximum passenger satisfaction.
Commenting on the win, a CSMIA spokesperson said, "At CSMIA, providing excellent customer service, assuring dependable and timely airport operations, and further reducing our CO2 emissions have always been our top priority. We are glad that our efforts to protect the environment and the airport's operational excellence are being recognized by both the business community and travelers. Above all, though, this honours the exceptional work of our staff members, who toil diligently each day to guarantee that operations at the airport operate smoothly and that travelers can depend on Mumbai International Airport."
At CSMIA, sustainability is an intrinsic concept, and its initiatives align with the United Nations (UN) Sustainable Development Goals and is prepared in accordance with Global Reporting Initiatives (GRI) standards, thus meeting the global environmental requirements. For CSMIA, sustainability is ingrained in its core business strategy and is an integral part for it to progressively improve the operations and continue to serve in a responsible manner.