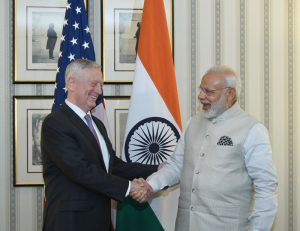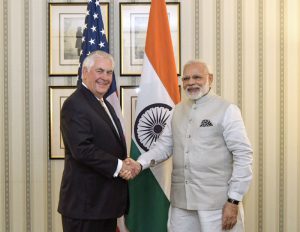 By Team ADU.
Washington DC.  26 June 2017. All eyes are on the meeting scheduled today between the Indian Prime Minister Narendra Modi  and US President Donald Trump – the first one which promises to set the strategic agenda for the two nations. One is a buyer of arms and technology and the other sells both of these.
Trump's 'America First' and Modi's 'Make in India' will pave the way for a strategic relationship . Modi has already met  Defense Secretary James Mattis and Secretary of State Rex Tillerson, personally and  seems to have set the stage for the big meeting.
The most hopeful agreement India feels is going to be of the purchase of 22 unarmed drones, worth more than $2 billion made by General Atomics . The Guardian (MQ-9) would thus for the first time be a part of the inventory of a country other than NATO members.
And just hours before the meeting US has named  Syed Salahuddin a global terrorist. Ministry of External Affairs spokesperson Gopal Baglay said, "India welcomes this notification. It underlines also quite strongly that both India and the US face threat of terrorism. Counter terrorism and Pakistan will be on the agenda as President Trump shapes his South Asia policy. Military aid to Pakistan will be under tougher scrutiny though it is unlikely that the US would label Pakistan as a state sponsor of terrorism.
Another key interest US could have would be to sell a nuclear-powered aircraft carrier which could be just the  platform for the  electromagnetic aircraft launch system (EMALs), which India definitely plans to buy from US giant General Atomics for its future naval needs.
As we write this Modi has reached the lawns of White House and shaken hands with Trump. For the bilateral talks, the US side is likely to be represented by Vice President Mike Pence, Defence Secretary James Mattis, Secretary of State Rex Tillerson and National Security Advisor Lt Gen HR McMaster. The Indian delegation will comprise, among others, National Security Advisor Ajit Doval, Foreign Secretary S Jaishankar and the Indian Ambassador to the US, Navtej Sarna.