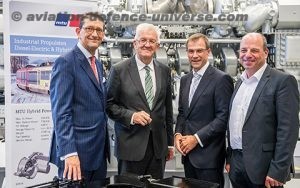 Rolls-Royce Power Systems welcomes Baden-Württemberg Minister President to Friedrichshafen and presents locally designed Green & High Tech solutions.
Electrification, digitalization and alternative fuels are key factors in the company's Power Systems 2030 strategy.
Positive feedback for environmentally-friendly MTU Hybrid PowerPack for rail cars.
Westhampnett. 2 JULY 2018. Winfried Kretschmann, Minister President of Rolls-Royce Power Systems' home state of Baden-Württemberg, visited Friedrichshafen to see the latest development work being undertaken at the company on matters associated with environmentally-friendly mobility and power generation. He was especially impressed by the new MTU Hybrid PowerPack for trains providing local rail services. "Rolls-Royce Power Systems is proof-positive of how green technology from Baden-Württemberg can achieve worldwide success in power delivery," said Minister President Kretschmann. In its Green & High Tech programme, Rolls-Royce Power Systems is focusing its investment on environmentally-friendly leading-edge solutions aimed at reducing harmful emissions and consuming less energy and fewer raw materials. The issues of electrification, digitalization and alternative fuels are center-stage in this initiative. The design of the MTU Hybrid PowerPack combines the benefits of electric and diesel-driven trains and promises a significant reduction in harmful emissions. Trains equipped with the MTU Hybrid PowerPack are able to use up to 25% less fuel and also reduce their CO2 footprint.
As well as the MTU Hybrid PowerPack, CEO Andreas Schell and CFO Marcus A. Wassenberg also showed Minister President Kretschmann other innovative projects and solutions which the company is working on. These include microgrids, which combine renewable energy – such as that from solar panels – with diesel or natural gas gensets and energy storage units – such as batteries – to create a local power grid which is as stable as it is environmentally-friendly. Digital MTU service offerings are also set to enable customers to operate their machinery and equipment even more efficiently and with less ecological impact in future.
Development of environmentally-friendly propulsion and drive systems is just one aspect of the concerted strategic change currently underway at Rolls-Royce Power Systems. The company is using its Power Systems 2030 strategy to transform itself from an engine manufacturer into a supplier of leading-edge, integrated solutions to customers in the marine and infrastructure sectors. In so doing, Rolls-Royce Power Systems is pursuing a clear agenda for the future: it is going to make diesel engines more intelligent and more environmentally-friendly, expand its offering selectively in alternative fuels and electrified power delivery systems, and grow its range of digital services across the board. "Rolls-Royce Power Systems is moving full-steam ahead: in future we will be supplying customers not just with increasingly environmentally-friendly power delivery systems, but also with comprehensive, integrated, fully networked solutions," said Andreas Schell. "These leading-edge solutions will help us continue to play our part in maintaining and enhancing Baden-Württemberg's credentials as an economic powerhouse and a center of innovation."