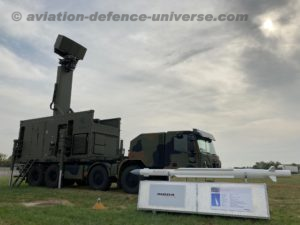 Paris. 17 September 2021. We are proud to join the Frecce Tricolori 60th anniversary celebrations organised by the Italian Air Force this weekend (18-19 September 2021) at the Rivolto Italian Air Force base (Udine) – Italy.
MBDA is participating through the SIRIUS detection centre system of the Italian Air Force , that, with the CAMM-ER missile, is going to provide state-of-the-art air defence. A model of the CAMM-ER is showcased for the occasion in a 1:1 scale at the exhibition area of the event.
The Air Force organized the air show to celebrate the 60th anniversary of the PAN, at Rivolto on 18 and 19 September. Acrobatic patrols and aircraft for the 60th anniversary of the Frecce Tricolor were HH-101A, HH-139A, TH-500, C-27J – RSV, T-346A – RSV, Eurofighter F-2000A – RSV, G-550 CAEW, KC-767A, C-130J, T6 Texan, Fiat G-46, MB326K, MB326E, SF-260EA, S-208M, MB-339A, MB-339CD, T-346A, Tornado, F35-A, F35-B, Red Devils (Belgium), Orlik Team (Poland), Krila Team (Croatia), Midnight Hawks (Finland), Patrulla Aguila (Spain), Patrouille Suisse (Switzerland) and AMX.
The air show was held over two days, 18 and 19 September with the start of flight activities at 12.30. The Frecce Tricolori (Italian pronunciation: [ˈfrettʃe trikoˈloːri]; literally "Tricolour Arrows"), officially known as the 313° Gruppo Addestramento Acrobatico, Pattuglia Acrobatica Nazionale (PAN) Frecce Tricolori ("313th Acrobatic Training Group, National Aerobatic Team (PAN) Frecce Tricolori"), is the aerobatic demonstration team of the Italian Air Force. Based at Rivolto Air Base, province of Udine, it was created on 1 March 1961 as a permanent group for the training of Air Force pilots in air acrobatics.
The Tricolour Arrows replaced unofficial teams that had been sponsored by various commands starting in the early 1930s. The team flies the Aermacchi MB-339-A/PAN, a two-seat fighter-trainer craft capable of 898 km/h at sea level. With ten aircraft, nine in close formation and a soloist, they are the world's largest acrobatics patrol, and their flight schedule, comprising about twenty acrobatics and about half an hour, made them the most famous in the world. It is one of national symbols of Italy.