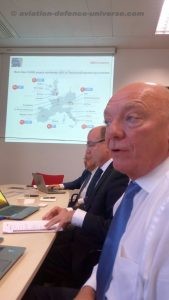 By Sangeeta Saxena
Paris. 18 September 2017. "MBDA-L&T joint venture is now operational. The JV is working on the location. A new consolidated Indian product with MBDA and target is IDDM. We are very confident of getting the ATGM-5. We built the JV to give a response to all RFPs. So far there is no plan of another JV with another partner. Initially we will be sharing their facilities," said MBDA India Head Loïc Piedevache. He was addressing the Indian Media Corps visiting the MBDA Head Quarters in Paris.
MICA RF MICA and IR MICA, VL MICA SRSAM, SCALP, Exocet MM40 Block3, METEOR and MICA-AASM with defence systems for land, air, hi-waters and coasts, MBDA has a solution tailor made for each customer. At the moment the coastal batteries willl be built by the MBDA- L&T JV .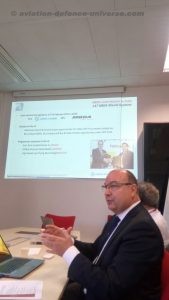 VL MICA ordered by 8 Navies to equip 30 ships, with a kill probability better than 90%, with 7 different types of radars , has scalable configuration upto 32 missiles per ship, low integration cost and just preventive maintenance for 5 years.
MBDA Gound Based Air defence which is VSHORAD MISTRAL in service in 42 armed forces in 30 countries has a Mach 2.5 speed, a phased array, 3D , X Band radar, a 20 km instrumented range and very much on offer to India. Negotiations will start in a matter of days. All trials are over and Army has drafted a final report, so results are awaited. Swedish SAAB and the Russians are also in the fray for VSHORAD in India.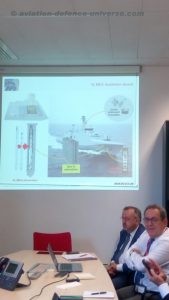 The ATAM launcher has been already made in collaboration with HAL launchers made by MBDA and four on each wing of LCH which will see life firing by the end of this year.
MMP ATGM 5 , the MBDA fifth generation Anti-Tank Guided Missile to replace MILAN and JAVELIN from 2017 in French Infantry and first deliveries are in progress for the 450 firing posts and 34000 missiles. ATGM integration validation will be done in 2018-19.
Greater than 4000metres range, the new generation tandem warhead is anti-tank, anti-infra and anti-personnel, the NCW firing post has an interactive terminal with GPS, Laser Range Finder and digital magnetic compass and has the capability to fully integrate in NCW. It has a passive seeker with dual band, high resolution colour TV and uncooled IR. There is image correlation for the automatic seeker which is lock on.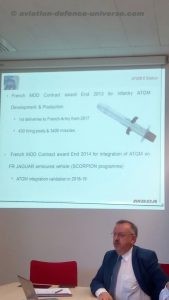 The data link cable is long enough and is a fibre optic which is the best choice for ground to ground operations. ATGM 5 is proposed to produce by MBDA within the ambit of the L&T JV. RFI wants technology of the war head and smokeless propellers. RFI for FICV programme and upgrade of the BMP 2.
Stockpile management services (SMS) offered by MBDA consist of an innovative process supported by adequate methodologies and IT tools to give life cost savings of up to 30 per cent, at the same time also allowing a user to confidently predict life extension of the missile stock. Improved safety and optimised operational availability are other key advantages. MBDA should offer this to India.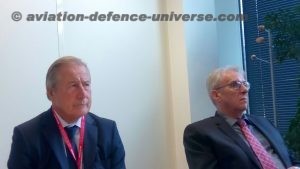 MBDA presents the new SmartGlider family of guided weapons, optimised to counter anti-access strategies and other emerging battlespace threats. Planned to become available for fast jets no later than 2025, SmartGlider forms a family of all-up-round glider weapons, with folding wings and a range of over 100 km. This new generation of air-to-ground weapons is designed to counter new networked short- and medium-range surface-to-air threats, as well as moving/relocatable targets or hardened fixed targets.