Next step is his extradition to India
And there are Hafeez Sayeed , Zaki-ur-Rehman Lakhvi & many more on India's list
By JK Verma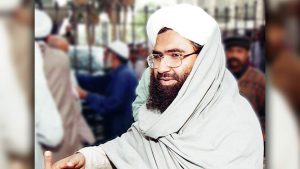 New Delhi. 09 May 2019. India achieved a great diplomatic success when Jaish-e-Mohammed (J-e-M) founder and Chief Masood Azhar was declared "Global Terrorist" by United Nations Security Council. China which is all weather friend of Pakistan and was using its veto power since 2009, against the resolution no 1267 under which Masood Azhar had to be listed as Global Terrorist has absented from the voting this time. But this is the battlr only half won and an incomplete victory for India.
India submitted a dossier mentioning that J-e-M has carried out several terrorist attacks in India including the attack on Central Reserve Police Force (CRPF) convoy at Pulwama (Kashmir) in which more than 40 valiant CRPF soldiers were martyred, on February 14. The J-e-M trained, indoctrinated and supplied explosives and other material to a local disenchanted Kashmiri youth who bumped the explosives-laden car into a CRPF bus.
Geng Shuang, Chinese foreign Ministry spokesman stated that now the countries have submitted revised materials pertaining to UN Resolution 1267 and now China is satisfied and has no objection towards the resolution. China also appreciated the "enormous contribution" made by Pakistan in fighting the terrorism and all the countries must acknowledge it.
Both India and Pakistan projected it as their diplomatic victories. Pakistan claimed that May 1, listing of Masood Azhar was not linked to Pulwama attack or terrorism in Kashmir indicates that the UNO had not accepted India's stand hence it is a Pakistani victory. Pakistan also claimed that as Pulwama and Kashmir were not mentioned in the final resolution indicates that UN had accepted Pakistan's viewpoint about Kashmir and rejected India's argument.
Pakistan which is undergoing through an acute economic crisis wants to have a bailout package from International Monetary Fund (IMF) as the financial assistance rendered by Saudi Arabia, United Arab Emirates and China was not enough. Now near bankrupt Pakistan is trying to get $ 12 billion from IMF and $ one billion from The Asian Development Bank (ADB). IMF will give the bailout package only if Financial Action Task Force (FATF) does not put Islamabad in "black list" from "grey list". The FATF team was not satisfied from the progress achieved by Pakistan in curbing and financing the terrorism and money laundering. China is expected to preside FATF from July 1, 2019.
Although declaring Masood as a 'global terrorist' is an achievement however India has to keep watch on the implementation of UN restrictions. Masood Azhar will be operating from Pakistan and Islamabad is responsible for imposing and implementing the impediments on Azhar. The restrictions will include freezing of bank accounts, seizure of his personal assets, travel ban, stoppage of anti-India activities just to name few. No country or individual will be allowed to sell arms and ammunition to Azhar. But the moot point is how to monitor the implementation. In past the sinister Inter Service Intelligence (ISI) has put Al-Qaeda Chief Osama Bin Laden in a safe house and provided all the facilities. Masood may continue to direct J-e-M activities as well as anti-India actions from the safe- house provided by ISI.
The cynics also claim that China had not supported India, it only absented from voting and in his statement appreciated Pakistan. Masood Azhar with all his cronies is in Pakistan and is in liberty to plan and act against India. The critics also mention that USA and France supported India because Delhi purchased arms worth billions of dollars. UK which is the main perpetrator of Indo-Pak conflict is itself in trouble owing to BREXIT.
Masood Azhar or its terrorist outfit J-e-M were not working in isolation and Azhar had full support of 'deep state'. J-e-M is the protégé of Pakistan army controlled Inter Services Intelligence (ISI) and Azhar carries out terrorist activities in India on behest of ISI, hence the real sponsor of global terrorists are Pakistan army and ISI. India should make all-out efforts to expose the nefarious activities of ISI as well as of Pakistan army in international arena.
ISI considers J-e-M and other terror outfits as their strategic assets against India hence security forces will not put any meaningful constraint on them, and these outfits will continue working against India. Delhi should try to make a joint front with Kabul and Tehran against Islamabad as all the three countries are suffering from Pakistan sponsored terrorism. In fact few terrorist outfits stationed in Pakistan also help Uighur secessionist outfits therefore India can try to convince China that Pakistan is a terrorist state.
India should also try to expose China about its opposition to Delhi's entry into Nuclear Suppliers Group (NSG), while all other countries are supporting India's admission. China's arguments are baseless and fallacious and are with malicious intention of not giving India its due and try to help Pakistan which is accused of selling and transferring nuclear technology and material to other countries.
After the UN declaration of Masood Azhar as global terrorist India should now make sincere efforts so that the terrorist state is compelled to take stringent actions against the fifty most wanted criminals. India already gave the list which contains the terrorists, hijackers and even Pakistani army officers. India should also try that Pakistan handover these terrorists to India as they did terrorist act against India.
Hafeez Saeed, founder and Chief of Lashkar-e-Toiba (L-e-T) is at the top of the list. He is the architect of Mumbai attack of 26.11.08 in which 10 members of L-e-T attacked at about twelve different places in Mumbai and killed more than 160 persons and about 300 wounded. In Pakistan he is giving anti-India speeches and L-e-T is involved in recruiting and sending terrorists to India. Jamaat-ud-Dawa (J-u-D) is a cover organisation for L-e-T which under the garb of charity assists the terrorist activities of L-e-T. Pakistan overtly showed that it took some actions against Saeed but in reality, no action was taken against him.
Zaki-ur-Rehman Lakhvi is second in command in L-e-T and at present in-charge of Kashmir operations. He was also involved in Mumbai attacks. He prominently figures in the Most wanted list of National Investigation Agency. The list also includes the name of Illyas Kashmiri, who is an ex-army commander and chief of 313 brigade. He was close to ISI and instigated people to carryout terrorist activities in India. He is also responsible for several terrorist attacks in Pakistan. The other prominent persons included in the list were Abu Hamza, Syed Salahuddin, Syed Hashim Abdur Rehman Pasha, Dawood Ibrahim, Memon Ibrahim, Anis Ibrahim, Chota Shakeel, Abdul Razak Menon etc.
(Jai Kumar Verma is a Delhi-based strategic analyst and member of United Services Institute of India and Institute for Defence Studies and Analyses. The views in the article are solely the author's. He can be contacted at [email protected])