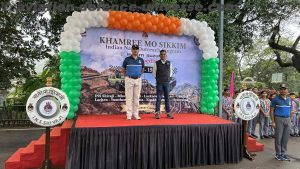 New Delhi. 24 September 2023. Maruti Suzuki India, the country's largest automobile manufacturer, is thrilled to announce its association with the Indian Navy to create awareness about the career opportunities amongst the Northeastern youth through the 'Khamree Mo Sikkim' outreach programme. This association underscores the shared commitment of all the stakeholders for the Northeast region.
The 6,500 km long expedition was flagged off from the Indian Navy base at Lonavala today. A total of 45 Navy officials would be driving five vehicles, including three of Maruti Suzuki's true-blue off-roader Jimny and two flagship Grand Vitara ALL GRIP SUVs for the next few weeks. Some of the key regions that will be covered through this are Mhow, Jhansi, Lucknow, Varanasi, Patna, Bagdogra, Gangtok, Lachen, Gurudongma, Kolkata, Bhubaneshwar, Vishakhapatnam, and Hyderabad.
Speaking on this momentous association, Mr. Shashank Srivastava, Senior Executive Officer, Marketing & Sales, Maruti Suzuki India Limited said, "Maruti Suzuki takes immense pride in its association with Indian Navy's 'Khamree Mo Sikkim' drive that embodies the essence of India's indomitable spirit. Our association with the Indian Navy underscores our unwavering dedication to fostering progress in the Northeastern region and nurturing the potential of our nation's youth. As the expedition unfolds, I extend my best wishes to the officers, and I am confident that our purpose-built SUVs will make this journey both thrilling and rewarding."
"This initiative is a collaborative effort to contribute to the progress and well-being of Northeast India. Our primary goal is to enlighten and inspire the youth about the abundant prospects within the Navy. Moreover, this initiative seeks to cultivate and fortify our connections within the local communities of the region." Said Commodore Mohit Goel, Commanding Officer, INS Shivaji, Indian Navy.
This expedition will unfold in three stretches, each with its unique focus and purpose. Stretch 1 will go from INS Shivaji to Bagdogra. Stretch 2 will comprehensively cover Sikkim, and Stretch 3 will extend from Gangtok, Sikkim, to INS Shivaji, with a particular focus on empowering the youth in rural areas along the eastern coastal region.
As the convoy traverses diverse states on its epic journey, participants will engage closely with local communities. They will deliver riveting motivational lectures and provide invaluable guidance on defence entrance exams at esteemed educational institutions. Moreover, this extraordinary rally promises to weave history and culture into the fabric of its outreach program. Along the route, participants will partake in captivating visits to historically significant monuments, blending the thrill of adventure with the richness of cultural heritage.