A legacy of bravery of Indian Army's Para Commandoes
New Delhi. 29 August 2020. This is the story of Major Sudhir Kumar Walia AC, SM Bar a para commando from the 9 Para – the bravest of the brave Regiment of the Indian Army, who made the supreme sacrifice 21 years ago on this day.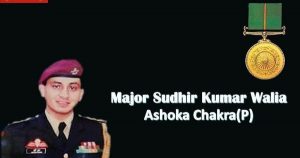 On 29 August 1999, he led an assault on a militant hideout in the Haphruda jungles of Kupwara district in Jammu and Kashmir. He killed 9 of a total of 20 militants and sustained gunshot wounds in the process. Though he was unable to move, he continued to give orders to his team till they succeeded. He allowed himself to be evacuated only 35 minutes after the operation ended. He was airlifted to the army base hospital but he succumbed to the injuries en route. For his bravery, he was posthumously awarded the Ashoka Chakra, the highest peace time military decoration in India.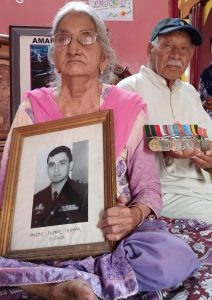 After the end of Kargil War on 26 July 1999, the Army was continuing its high alert status to deal with any eventuality. Major Sudhir Walia and his team of daredevil commandos disguised as militants were carrying out the task of searching the hiding militants who could pose a serious threat to the security forces. On 29th Aug 1999, Major Sudhir Kumar Walia with a squad of five commandos was on a "Search and Destroy" mission in the dense jungle of "Hafruda Forest" in Kupwara district of J&K. The squad suddenly chanced upon a well-camouflaged hideout having twenty odd terrorists. Fighting with outstanding gallantry and unyielding spirit Major Sudhir Walia son of Army veteran Subedar Major Rulia Ram Walia, and Mrs Rajeswari Devi made the supreme sacrifice for the nation and attained martyrdom.
A soldier not only by profession but also with heart and passion, Major Walia was an Aide-de-camp (ADC) to the Chief of the Army Staff (COAS), General Ved Prakash Malik when the Kargil War broke out. He obtained special permission from the COAS to go to the battlefield. Within ten days of his departure from Delhi, he led his team to capture Zulu Top at 5200 metres, in the Mushkoh Valley sector. When asked about his attack on Zulu Top without acclimatization, Maj Sudhir said: "Sir, you know that I'm a pahari (from the mountains). I don't need acclimatization." After the Kargil War ended, his team was assigned the duty of fighting terrorism in Jammu and Kashmir.
Sudhir was born on May 24, 1969 in Palampur in the Kangra district in Himachal Pradesh to an Army Veteran Subedar Major Rulia Ram Walia and Smt. Rajeswari Devi. He attended the Sainik School at Sujanpur Tihra. He then gained admission into the National Defence Academy, Khadakwasla.
Sudhir graduated from the Indian Military Academy and was commissioned into the 4th battalion, The Jat Regiment. He was a member of the Indian Peace Keeping Force (IPKF) who were sent to Sri Lanka on a peace mission. After he returned from Sri Lanka, he was moved to the 9th battalion, Para (Special Forces) unit, a special force of the Indian Army that specializes in mountain operations.
He also served two six-month terms at the Siachen Glacier. In 1997, he was sent to the United States for a specialized course and got first position. He also spoke at the Pentagon during this mission. Fondly and out of respect for his competence, he was called 'Colonel' during that course! As a Lieutenant, Walia was awarded the Sena Medal in 1994 for gallantry on two separate occasions for combating militancy in Jammu and Kashmir.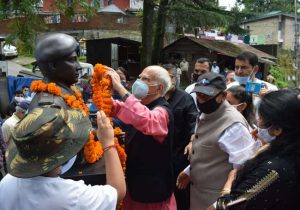 Today 21 years after Sudhir died in glory a bust of his has been dedicated in his memory at his hometown in Palampur, Himachal Pradesh on the anniversary of his supreme sacrifice. His words, "I won't die in an accident or die of any disease. I will go down in glory," will always be an inspiration to the generations of Indian youth who pledge to serve the nation by joining the defence forces.