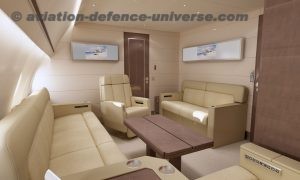 Dubai. 12 November 2017. Experts from the Lufthansa Technik VIP & Special Mission Aircraft division have developed a cabin concept for the Airbus A330 multi-role tanker transport aircraft (MRTT). Four different configurations – "State", "Governor", "Rescue" and "Trooper" – as well as new usage possibilities can be realized. Lufthansa Technik has already gained a customer for the "Governor" configuration. Some 30 A330 MRTT aircraft have been ordered or are already in service with various air forces.
"Aircraft used for civil or military purposes must meet different requirements depending on the situation," said Wieland Timm, Senior Director Sales, VIP and Special Mission at Lufthansa Technik. "We have therefore developed cabin layouts for four particularly frequent deployment scenarios, which will enable significantly more intensive and improved use of the aircraft in the future. The combined civil and military approval permits fast deployment of the machines for their respective missions. Our approximately 60 years of experience in equipping VIP and special mission aircraft and an intensive coordination with current and potential civilian and military customers form the basis for this unique utilization concept."
The "State" and "Governor" variants are designed for the transport of head-of-states, government members and delegations. "State" is designed as a flying government office containing the necessary spatial and technical equipment to enable governmental authorities or military staffs to work productively on board. The "Governor" version is designed to transport larger delegations with different functions and different statuses.
The "Rescue" version has been developed for the execution of humanitarian aid flights and medical evacuation transports. It offers a modular, flying intensive care unit that can accommodate additional passengers or all kinds of medical equipment on board as needed. For this purpose, Lufthansa Technik is offering its Patient Transport Unit (PTU NG) which is one of the most modern patient transport options on the market. It can be modularly adapted to the requirements of customers and patients.
The fourth design concept "Trooper" is optimized for long-distance passenger or troop transport and offers maximum capacity in different classes. Also in this version, a small intensive care unit can be integrated if required.
The cabin variants were developed in cooperation with military services. They meet the requirements with regard to risks through leaking emanations (NATO TEMPEST requirements). Lufthansa Technik also offers a complete portfolio of technical services for the Airbus 330 MRTT, covering the entire life cycle of the aircraft.