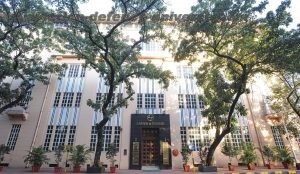 Lays Keels of 5th and 6th Offshore Patrol Vessels
New Delhi. 03 July 2018: Larsen & Toubro is building a series of in-house designed 7 New Generation Offshore Patrol Vessels (OPVs) for the Indian Coast Guard against a 2015 contract stipulating deliveries between 2018 to 2021.
The first OPV, despite being the First of Class (FOC), was delivered in April 2018, ahead of schedule. The second OPV launched in January 2018 is presently being readied for sea trials and is planned to be delivered ahead of schedule shortly,while system integration is in progress in 3rdand 4thOPVs, which are slated for launch later this year.
Today, the keels of 5thand 6th OPVswere laid by Inspector General TP Sadanandan, TM, Deputy Director General (Materiel & Maintenance) Indian Coast Guard at L&T's Defence Shipyard at Kattupalli near Chennai.
L&T is the first Private Sector Indian shipyard to design, construct and deliver OPVs for the Defence forces with a unique distinction of being on or ahead of schedule in all Naval shipbuilding programs entrusted till date. L&T's state-of-the-art Defence shipyard at Kattupalli features a shiplift system along with multiple dry and wet berths that enables concurrent construction of multiple ships. Building them modularly under covered workshops and finishing on building berths on land yields unmatched pace, very high level of completion before launch and faster induction in Defence service.
Commenting on the occasion, Mr SN Subrahmanyan, MD& CEO of Larsen & Toubro said:"Our excellent performance in Defence shipbuilding stem from our deep-rooted commitment to nation building, customer orientation, innovative technology solutions, complex project management expertise and prudent financial management. With a long term commitment to the defence sector, we have made huge investments in Kattupalli shipyard and seven other dedicated defence production units to serve the nation."
Mr Jayant D Patil, Whole-time Director (Defence) and Member of L&T Board, said: "In the Defence Segment, L&T has an impressive reputation in in-house design, development and delivery of equipment, systems and platforms and has gained the confidence of our esteemed customers. Among Indian shipyards, we are unique to have the financial strength,track record, and huge capacity to build &deliver complex defence vessels on time."
Vice Admiral B Kannan (Retd.), MD & CEO L&T Shipbuilding, said: "The keel laying of 5th and 6th OPVs comes close on the heels of delivery and commissioning of first OPV of the series, ICGS Vikram in April, 2018. The vessel, despite being First of Class, was completed ahead of contracted schedule, which is a record in the five-decade long history of Defence Shipbuilding in India. The ship's build period, which is reckoned from keel laying to delivery, was accomplished in an impressive time frame of less than 24 months and being substantially bettered on follow-on ships."
L&T has had impeccable record of delivery of Defence vessels since inception. Earlier this month, two Interceptor Boats (IBs) designed and built by L&T were commissioned into the Indian Coast Guard, up to two years ahead of schedule. These shipsare 39th and 40thvessels of the series of 54 interceptor boats being built by L&T. All these ships are presently deployed by the Indian Coast Guard across the Indian coastline to strengthen coastal security andaugment patrolling to prevent infiltration, smuggling and illegal fishing.
Earlier this year, L&T delivered to the Indian Navy,India's first indigenously designed and built Floating Dock (FDN),which can dock warships / submarines of upto 8000 tons of displacement. The FDN, which is presently stationed at Andaman & Nicobar Islands, was formally inducted into the Naval Service in May2018 at a ceremony at Port Blair. The FDN, which offers a cost effective and versatile solution for concurrent dry docking ships / submarines,has attracted attention of many prospective users.
L&T has also been entrusted by the Ministry of Defence of Socialist Republic of Vietnam to design and construct High Speed Patrol Vessels for the Vietnam Border Guard. The mandate is thus far the largest export order received by any Indian Shipyard.
The Defence shipbuilding projects at L&T are befitting examples of 'Make in India', as OPVs, FDN and IBs have all been designed and constructedcompletely in-house, apart from being delivered to the Defence forces ahead of contracted schedule, thereby hugely contributing to nation's security infrastructure.
In addition, L&T supports Indian Navy and Coast Guardfor Repairs and Refit services at Kattupalli shipyard. L&T has till date completed repair / refit (SR / MR as well as Emergency Repairs) of many Indian Naval and Coast Guard ships.