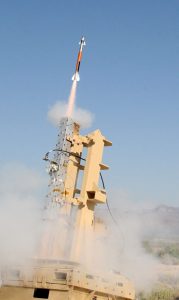 Bethesda, Maryland . 11 February 2019. Lockheed Martin has been developing an exciting new air defense interceptor called Miniature Hit-to-Kill (MHTK), which essentially takes components of the core technology the company developed for the combat-proven Patriot Advanced Capability-3 (PAC-3) and Terminal High Altitude Area Defense (THAAD) weapon systems and miniaturized it to address the Counter-Rocket, Artillery and Mortar (C-RAM) threat facing today's forces.
MHTK provides unmatched levels of accuracy, lethality and assured defeat for C-RAM threats. To shrink the technology behind the missile, Lockheed Martin looked outside the defense industry for inspiration. The company then applied the core principles of hit-to-kill capability, seeker accuracy and missile agility to a pressing class of problems.
Lockheed Martin achieved miniaturization on MHTK using photonics, medical imaging technologies and mobile phone industry techniques, combined with state-of-the-art electronic packaging. The company also borrowed technologies from other Lockheed Martin programs, such as the ejection seat capabilities of the F-35 Lightning II and durability best practices from the automobile industry. The MHTK interceptor is about 2.5 feet (72 cm) in length and weighs about 5 pounds (2.2 kg) at launch. Though small, MHTK is designed to retain the range and lethality desired in a C-RAM solution. Its small size enables a deep magazine to defeat a saturation attack.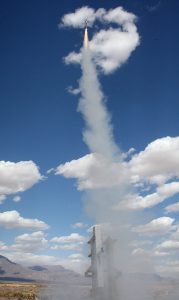 The MHTK uses hit-to-kill technology, which destroys threats through a very accurate application of kinetic energy in body-to-body contact. In other words, MHTK does not contain a warhead, which reduces the risk of collateral damage as seen with traditional blast-fragmentation interceptors. This unique technology leverages existing combat-proven systems and provides a mobile, organic self-protection capability to Army maneuver elements and critical infrastructure. The MHTK interceptor has been successfully flight tested to demonstrate the interceptor's impressive agility, and to validate the performance of its airframe and electronics. Additional flight testing is planned for 2019.