DTTI spearheads Indo-US defence ties
LM focuses on growing its supply chain in India
By Sangeeta Saxena
New Delhi. 25 August 2020. In a changed COVID-19 affected world, when across the table meetings got replace with online ones and seminars with webinars, US aerospace & defence major Lockheed Martin recently held its 7th Annual Suppliers Conference virtually which was co-hosted with Society of Indian Defence Manufacturers (SIDM) and Confederation of Indian Industry (CII).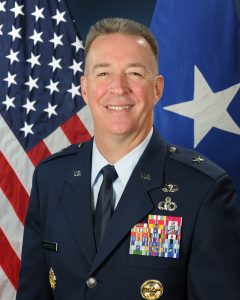 A speaker who turned out to be the cynosure of all eyes was Brig. Gen. Brian R. Bruckbauer who is the Director, Air Force Security Assistance and Cooperation Directorate, Air Force Life Cycle Management Center, and the Director, International Affairs, Air Force Materiel Command, Wright-Patterson Air Force Base, Ohio. He leads a directorate charged with providing security assistance and cooperation to international partners. As Director, Brig. Gen. Bruckbauer is Headquarters Air Force Materiel Command's Foreign Military Sales enterprise focal point charged with administering the Air Force's more than $217 billion security assistance portfolio supporting foreign military sales to 118 countries, operating more than 6,700 aircraft and other weapon systems worldwide. He develops and executes international agreements and manages the Air Force Materiel Command's International Affairs and Foreign Disclosure policies.
"Today I was asked to talk about the Defense Technology and Trade Initiative or DTTI which is not a treaty or law. It is a flexible mechanism to ensure that senior leaders from the United States and India are persistently focused on opportunities and challenges associated with growing our defense partnership through defense cooperation. DTTI has been around for a few years but in my opinion hasn't really produced any tangible results until recently and this is partly due to India's recent designation as a major defense partner and its rise to strategic trade authorization status tier one for the United States," the Brig General stated.
He continued, "so why is DTTI important? Well in my opinion from what I have seen it eliminates bureaucratic obstacles because you've got very senior leadership involved in this to be able to cut through a lot of the red tape it's also a forum used by both countries to request information and capability assistance like space cooperation, air worthiness and other air system requirements. It also strengthens India's defense industrial base by moving away from a traditional buyer-seller dynamics toward a more collaborative approach. Also from what I've seen it explores new areas of technological collaboration from science and technology cooperation through co-production and development, also expands US – Indian business ties and keeps strategic level co-chairs in constant communication for operational requirements that may exist. It also provides a process by which these requirements can be satisfied in a cooperative manner that benefit both countries."
"So bottom line is that India is a major defense partner of the US and is a key ally and friend and is a in a very challenging geographical position as was evidenced by the horrific confrontation that occurred in Ladakh  where 20 Indian soldiers were killed by the People's Liberation Army. In additional to DTTI there are many existing frameworks that exist that you probably are all aware of like the Defense Policy Group (DPG), the  Logistics Exchange Memorandum of Agreement (LEMOA) , the Communication Compatibility and Security Agreement (COMCASA) and the Industrial Security Annexer. There are four joint working groups that I want you to be aware of my joint working group the air systems joint working group, land systems naval systems and there's also an aircraft carrier technology cooperation joint working group. Each is chaired by a US and Indian general officer and the joint work working groups are built based on function for example there are current discussions to have a space systems working group and a quantum computing working group. At the joint working group level we were able to bring together the respective services and the Defense Research and Development Organization (DRDO) from India and on the US side I am able to bring together all the aspects of the Airforce to include the air force research laboratory, the combatant commands major commands, air force operational organizations and even the system program offices should we need their assistance once a joint project is agreed to in principle by me and my Indian counterpart. Then we moved to codify the collaboration, research development test and evaluation and eventually fabrication and fielding of an operational asset through a project agreement that is ultimately approved by the respective department and ministry of defense leads. Now I make this sound easy but it really isn't. It takes a lot of work on both sides and there are a variety of details that need to get worked out leading up to the signing of a project agreement such as congruent concepts of operation tech transfer approvals, information classification agreements lining up budgetary processes and funding commitments," he explained.
"The ability and level of US and India industry partners to support the goal, is to take ideas of mutual benefit to both air forces for co-development of technology and then get them to our war fighters as expeditiously as possible . Now one example that's currently in the works within my air systems joint working group is an inexpensive air launched unmanned aerial vehicle which leverages swarm technology that can provide a cost-effective way to provide intelligence surveillance and reconnaissance (ISR) capabilities for humanitarian assistance and disaster relief, border and cross border operations and even cave or tunnel inspections. Another benefit of DTTI in my joint working group is that my Indian counterpart can use it to help solve other foreign military sales or direct commercial sales challenges. One example here is with India's requirement for an air platform that can conduct ISR operations, targeting and other types of operations in terms of surveillance," he elaborated.
"So in summary both India and US understand there are challenges stemming from incongruent ways both countries approach cooperation and development of technology but the good news is that both countries recognize this and are committed to changing that relationship by leveraging a substantial amount of human capital in influential positions and I for one am very excited to be at the forefront of this movement where I can see progress manifested into a capability that is operational, operationally usable by both nations and despite all of our efforts no we cannot do this alone we need people that have the ground truth to tell us what is working correctly and what needs more work and if any of you are ever in a position to observe issues or suggest corrections your input would be most welcome," said Brig General.
He concluded, "and let me just give you a few guidelines here before I part that can help direct conversations going forward. So number one I ensure that your fresh ideas for how we can grow the strategic partnership are being shared with the United States Air Force , the Indian Air Force, Air Force Research Laboratory and DRDO. Number two please use your innovation hubs like Afworks in the United States and IDEX in India to pitch ideas and to get noticed. Third is do not focus on specific platforms but on operational concepts and this will allow us to look at many different alternatives that may suit both nations. Lastly number four please realize that big ships will never turn on a dime right while we work to enact policy changes. The underlying mechanisms are complex and the processes will take more than a few days or weeks or months to change so you will need to be patient with this process and we need to keep the lines of communication on how we can improve open and then lastly share with me and others your ideas to strengthen ties between the united states and Indian industry including startups . We are always looking for talent so if there's a technological challenge that affects our air forces that you think can be solved collaboratively I want to hear about that from you in my role at as the air systems joint working group lead."
Themed 'Making India part of the Global Supply Chain', the five-day conference witnessed more than 400 delegates. More than 200 companies of all sizes — large, MSMEs and start-ups participated in the conference. 62 companies joined the conference as exhibitors and used the virtual exhibition area of the 'CII HIVE' platform to showcase their company.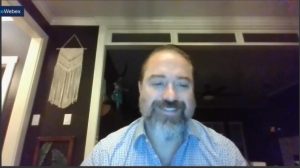 Vincent Panzera the vice president Lockheed Martin International spoke about the industrial development of the US major's global perspective. "We're interested in increasing our partnerships strategically around the world. What I'd like to mention and discuss is our offset strategy or our industrial strategy when we partner with a nation and its industry. Some trends that we've noticed around the globe in the last five or ten years, are that governments and industries are looking for technology transfer and co-development of new capabilities. They're looking for direct participation with the local defense industry to manufacture and or sustain the items in which the government is purchasing in defense of its nation," he said.
He went ahead to explain that about five years ago Lockheed Martin had a strategic shift in the way it looked at industrial obligations or offsets as they're known in India. "It is a pivotal shift from an obligation to an opportunity for a couple of reasons. There is a broad technology base around the world not just in the United States. There are a lot of very high technology competitive companies around the world that Lockheed Martin wants to take advantage of. What we're really looking to do is to drive cost-effective and discriminating industrial programs that deliver value to our customers both around the world and to the United States. What we want is a strategic long-term partnership with industry in India. We often say that once an item or a group of items makes its way to India for manufacturing that's the last place it will ever be manufactured and that is a true testament to the capability of Indian industry that its commitment to quality, its commitment to cost," he added.
Vincent stated that the company is looking to diversify it's supply chain to remain competitive around the world and elaborated that offsets now provide opportunities for companies to become part of the Lockheed Martin supply chain. "There is potential for collaboration and portfolio diversification and really what we're trying to do is enhance the value proposition so that these partnerships become a competitive discriminator for Lockheed Martin products around the world not just in India. C-130 components that are being manufactured in India for several years , are the single source of supply for every aircraft infact every single aircraft around the world and this is our vision of what we're looking to do with Indian industry on the long term. Of course there are some challenges that need to be addressed. I think these include a lack of raw materials being manufactured in India , non-availability of requisite machines and tooling as well as the absence of certification bodies and agencies for aerospace and international standards. Therefore our current projects available to manufacturers are low on technology and most of them are for structural and assembly of parts. This is a good start and larger volumes will be essential for getting the return on investment. I would also like to state that the Government's Make in India initiative as far as the aerospace and defense sectors are concerned has certainly gathered momentum with the defense offsets and the Indian companies having proved themselves as trusted partners in aviation for both quality and delivery. India is an attractive hub for foreign investments in the manufacturing sector and several A&D companies have set up or are looking to establish their manufacturing bases in the country we're no different," concluded Vincent on a positive note.
The event not only reiterated Lockheed Martin's resolve to develop the capabilities of suppliers and to give them access to the global supply chain to manufacture in India, from India, for India and the world but also match steps with Indian government's Make in India, Skill India and Startup India drives.
Second in the series of ADU's coverage of the conference.