By Sangeeta Saxena
Farnborough, England . 11 July 2016. Lockheed Martin will invest up to $170 million over the next two years to extend its existing "Blueprint for Affordability" measure and is also starting a new program to reduce sustainability costs for the airplane by $1 billion over the next five years.
The F-35 made its first appearance at Farnborough Air show this year. The $379 billion project is the largest arms program in the world launched 15 years ago and has been  in news for years for its  cost overruns despite 180 F-35 jets now flying.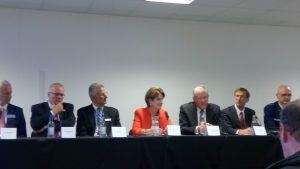 Speaking to the press at the show was the complete set of  F35 partners and each vouched for this commitment towards making the aircraft financially viable. 193 projects are in progress which will save  $1.15 million per plane off aircraft produced in the ninth batch of low-rate initial production (LRIP) and $1.7 million for aircraft in LRIP 10.
Marillyn Hewson, Lockheed's president and CEO  said, "We are confident that by extending the Blueprint for Affordability for Production for an additional two years, our industry investment will yield savings in excess of $4 billion for the life of the program."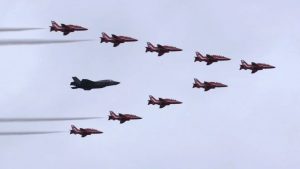 Lockheed , Northrop Grumman and BAE kicked off the Blueprint for Affordability program in 2014, using $164 million of their internal funding to improve manufacturing processes, tooling and assembly.  They are all set to start a sustainment cost reduction initiative which aims at  cutting operations and maintenance expenses by 10 percent during fiscal 2018 through fiscal 2022. An investment of $250 million hopes to save at least $1 billion in the next five years.
The Department of Defense announced two initiatives with industry to reduce F-35 Lightning II production and sustainment costs. The first is a two-year extension of the "Blueprint for Affordability for Production" program announced in 2014, and the second is the creation of a similar concept to reduce the operation and sustainment costs of the F-35 weapon system.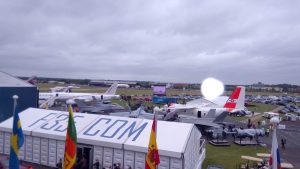 The initiatives are built upon the U.S. government's Better Buying Power initiatives, which encourage defense contractors and the government acquisition community to determine new and innovative ways to reduce the cost of their goods and services.
The F-35 Blueprint for Affordability for Production program is a shared commitment between government and industry to drive down F-35 unit recurring flyaway cost by incentivizing production cost reduction initiatives, with a goal of achieving a target price of $85M (TY$) for the air vehicle by 2019.
"The companies are considering projects such as establishing regional sustainment areas for the F-35's logistics software and buying spare parts though block-buy contracts. Invested funds could also go toward improving the processes and equipment used throughout the sustainment process.  Now with that many aircraft delivered, we are down 57 percent from the first aircraft that was delivered, and we're on a path to be down to a price of an $85 million jet by 2019, which is comparable to a fourth generation aircraft." Hewson informed.
"The 2014 Blueprint for Affordability agreement is a success and a significant move forward in our business approach within the F-35 program," said Frank Kendall, Under Secretary of Defense for Acquisition, Technology and Logistics. "The additional two-year investment by industry to further reduce production costs will help bridge us to the planned Block Buy. The sustainment initiative is also an accelerator to help us achieve our goal of an overall 30 percent O&S lifecycle cost reduction."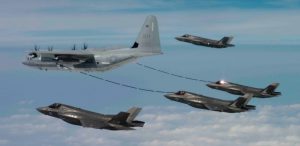 " As with the initial agreement, industry will only recoup its investment and fee once the accrued savings are verified and below certain thresholds. Blueprint for Affordability initiatives took many forms. Some were focused on increasing efficiency on factory floors such as improving tooling or modifying assembly instructions. Some automated very labor-intensive artisan processes, such as robotic injection molding of thick build coatings instead of spraying and thermoforming of transparency shells using hydraulics instead of hand-tightened clamps.," added Hewson.
In addition to unit recurring flyaway cost savings generated by production affordability initiatives, additional benefits are being realized. A number of projects funded to reduce individual part cost will also contribute to reduced spare part costs. Where applicable, lessons learned improving efficiency on the factory floor are being transferred to the field and depots.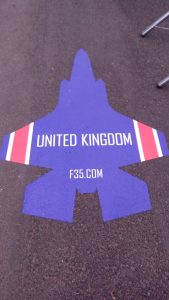 More than 20 sub-tier suppliers received funds for improvements under this program beyond the improvements made at Lockheed Martin, Northrop Grumman, and BAE Systems.Lockheed is building three versions of the plane for the U.S. military, Britain, Turkey, Australia, Italy, Denmark, Norway, the Netherlands, Israel, Japan and South Korea. It said it expects to sell 3,000 jets in coming decades, with production expected to peak at around 170-180 planes a year around 2023.