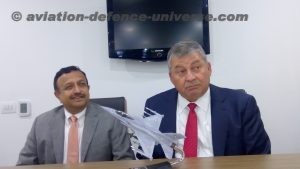 By Sangeeta Saxena
New Delhi. 06 November 2017. No prizes for guessing the talk of the town if one hash tags aviation in India, make in India, indigenous aircraft production, final assembly lines, Indian Air Force fighters, joint ventures in Indian aviation and many more of them. The talk is – Who will bell the cat ? Will it be Boeing, Lockheed or Gripen? Will IAF's next fighter to be made in India under the Make in India be F18A, F16 or JAS 39 Gripen E? Indian Air Force has come a long way since its days of dependency on first the USSR and then Russia for its needs. It is now a level playing field for all the players both national and international. But the strongest rumour today is that a RFI will be issued within this week to either Lockheed Martin or Saab.
The two top executives of Lockheed Martin Abhay Paranjpe, Executive Director, International Business Development and Randall L Howard, Business Development Head for F 16 on their previous visit to New Delhi in a chat with ADU reiterated that they were waiting for the Indian Ministry of Defence to place the order under its new policy of Make in India and having a Strategic Partner and with 4,600 aircraft in 138 variants manufactured and sold to 27 countries, with sixteen repeat orders, they were confident of being India's choice.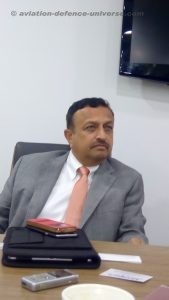 With a coproduction agreement with Tata Advanced Systems Ltd (TATA) in place and the US Government is fully supporting the proposal in Government-to-Government (G-2-G) talks with the Indian Government the US aviation major is busy creating an ecosystem for themselves. Though they did not confirm but sources in Nasik have told ADU that the OEM is looking for and should also be very near to finalising a deal for purchase of about 200acres of land in the already existing aerospace hub there. Both Paranjpe and Randy unanimously felt that India should follow the US business model where a runway is shared by the US Air Force (USAF) and industry. It will not only help save costs, production and testing time but will also make supply chain management easier for suppliers will automatically want to have their units in the same area. The Nasik rumour seems logical with this argument as the HAL and IAF airfield already exists there.
Abhay Paranjpe reiterated that IAF's need for fighters is evident. " Indian order should be for a minimum of 100 initially and a follow on order of a good number will not be a surprise. We along with TASL should be able to meet the requirement in the given deadline," he stated. On being asked about the production rate per month he optimistically said that they should be able to produce 3 to 4 aircraft per month.
Randall Howard informed that the F 16 Block 70 despite of being a new generation F 16 will also share some components and latest technologies of the F 35 to the extent of 70-75 percent. "The company will shift the entire factory and production line from Fort Worth in Texas to India if and only if we get selected by India. Periodic upgrades should be a part of the proposal. The manpower in India will be trained and skills development of the Indian workers and supervisors will definitely be our aim. The training can be here and if needed can also be given in the US facilities. All this will be decided only on the confirmation of getting the contract," he said.
"F16 is the most battle proven fighter and is a safe bet in the skies. We have a single supply chain, which means that the entire aircraft can be manufactured and assembled at one facility. Keeping in mind the huge market, India should be able to sell not just aircraft but also spare parts to other parts of the world, from its soil," explained Paranjpe.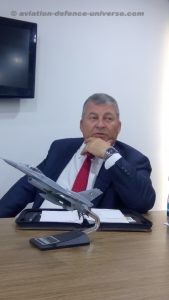 Randy stated that F-16 is ready for any challenge, combining innovative structural and capability upgrades, such as the Active Electronically Scanned Array radar with a new avionics architecture. According to him the Block 70 software will further enhance capabilities through an advanced data link, precision GPS navigation and Automatic Ground Collision Avoidance System. And any need of the Indian customer will be met he added.
F-16 Block 70 radar, the APG-83, is an Active Electronically Scanned Array (AESA) radar that provides multimode capability which is 95 percent of the APG-83 suite of operating modes have been ported directly from the latest generation AESA and have demonstrated outstanding capability to detect and engage the spectrum of air, surface and sea targets, even in the most challenging electronic warfare environments. The APG-83 is three to five times more reliable than legacy mechanically scanned radars, which means higher availability rates and lower sustainment costs, feel both of them.
Lockheed Martin has more than 36 years of weapon integration experience with the F-16. "Our experience as a weapon integrator has enabled the F-16 to develop into one of the most versatile multirole fighters. We have certified USAF common weapons as well as a large number of country-unique weapons onto the F-16. These weapons span multiple classes and categories of weapons which can be utilized over a broad range of missions. The result is a true simultaneous, multirole fighter with accurate, lethal, day and night, all-weather capabilities," stated Randy.
The optimism was high and expectancy great in the F 16 camp. So now its just time to wait and watch. We are keeping our fingers crossed said both of them in unison.