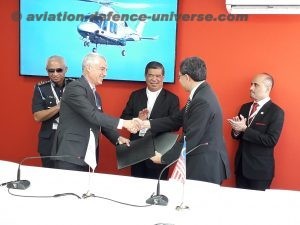 Paris. 20 June 2019. Leonardo and Sapura Secured Technologies (SST) of Malaysia will collaborate to promote cyber defence and security solutions through Cyber Academy and Cyber Range Development to the Malaysian public and private sectors. The Memorandum of Understanding (MoU), signed today at the Paris Air Show, combines the strong services portfolio of Sapura with Leonard's Cyber Security solutions to deliver market leading capabilities.
The companies have identified the rapidly increasing growth of the cyber landscape in Malaysia looking in particular at the need for greater cyber protection of key infrastructures, with the objective to grow indigenously cyberspace protection solutions for the country.
Datuk Mohd Zarif Hashim, CEO Sapura Secure Technologies & COO Sapura Group said: "Taking into account Leonardo's consolidated industrial and technological capabilities, together with its outstanding human capital and constant attention to innovation, SST envisions forwardlooking strategies in developing complex solutions for the Malaysian market through this partnership. Moreover, it is also a step forward in our shared objective of contributing to the growth of Malaysia's cyber-security industry."
Lorenzo Mariani, Chief Commercial Officer at Leonardo commented: "Sapura Secured Technologies' regional market and complex technical programme expertise complements Leonardo's international experience drawn from their work with high profile customers such as NATO, for the provision of quality through life cyber security. Our shared ethos of dynamic and responsive innovation underpins a national desire to develop talent and set strong foundations for the future."
SST is part of the renowned Sapura Group, leaders in the acquisition and development of strategic technologies in Malaysia since 1975. SST is at the helm of expanding Sapura Group's large reach over six major business areas including Oil & Gas, Technology, Industrial & Automotive Manufacturing, Aviation, Property Development & Rail.
Leonardo continues to invest in its intelligence-driven cyber expertise. The cyber services and products in the Company's portfolio are designed to evolve in-line with the ever-changing cyber battlefield. To ensure its customers maintain their cyber skills, Leonardo offers certified training as well as cyber academy and cyber range design and delivery, allowing specialists to exercise against new and emerging threats. In addition to delivering cyber security expertise to NATO since 2012 and the European Space Agency (ESA) since 2017, Leonardo also supports individual nation states, large corporations including defence companies and financial institutions with comprehensive cyber solutions.