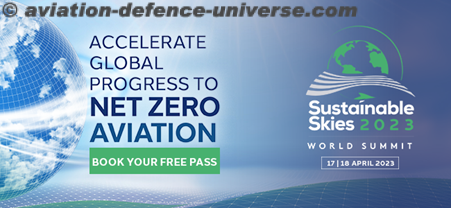 Hampshire, UK. 05 April 2023. Stage is set for Sustainable Skies World Summit at Farnborough. Leaders from pioneering aerospace and aviation organisations, including Airbus, EasyJetRolls-Royce, IATA, FAA, International Airlines Group, ZeroAvia and GKN Aerospace,are included in the Sustainable Skies World Summit speaker programme.The programme and showcase have been designed to stimulate collaboration and enable industry pioneers to leave with tangible outcomes to reach net zero targets by focusing on five key topics: sustainable aviation fuel (SAF), carbon removal, zero emissions, operational efficiency and future of flight.
Speakers at the summit include:
William Walsh, Director General, International Air Transport Association
Jimmy Samartzis, CEO, LanzaJet
Luis Gallego, CEO, International Airlines Group
Air Vice-Marshal, Paul H Lloyd
Val Miftakhov, Founder & CEO, ZeroAvia
Dr Mark Bentall, Head of R&T, Airbus
David Morgan, Chief Operating Officer, easyJet
Kerissa Khan, President-Elect 2022-23, Royal Aeronautical Society
Jonathon Counsell, Group Head of Sustainability, International Airlines Group
Dr Marc Stettler, Reader in Transport and the Environment, Imperial College London
Matt Finch, UK Policy Manager, Transport & Environment (T&E)
Paul Hutton, CEO, Cranfield Aerospace Solutions
Adam Durant, CEO, Satavia
Amy Ruddock, VP of Europe and Middle East, Carbon Engineering
Lirio Liu, Executive Director of Aircraft Certification, FAA
Marie Owens Thomsen, SVP Sustainability and Chief Economist, IATA
Rodrigo Silva e Souza, VP Marketing, Embraer
Tom Grundy, Chief Executive Officer, Hybrid Air Vehicles
Sir Stephen Hillier, Chair, CAA
Arvind Balan, Chief Financial Officer, Board Director, Leader, Civil Aerospace Rolls
Royce
Toby Gibbs, Chair Sustainability Working Group, British Aviation Group
David Hyde, Aerospace Projects Lead, World Economic Forum
Alexandre de Joybert, Sustainability Director, Airports Council International Europe
Matt Gorman, Chair, Sustainable Aviation Coalition
Ingrid Holmes, Executive Director, Green Finance Institute
Laurence Wildgoose, Assistant Administrator for Policy, International Affairs, and
Environment, FAA
Mike Kane, Shadow Aviation Minister, UK Government
Daniel Ng, Chief Sustainability Officer, CAAS
Pippa Bailey, Head of the climate change & sustainability practice, Ipsos Mori
Rachel Gardner-Poole, Chief Operating Officer, Connected Places Catapult
Organisations showcasing their technology at the show will include Wheeltug, ACOG,
Alfanar, Rise Coalition, Reaction Engines, Rolls-Royce, ZeroAvia, GKN Aerospace,
NeboAir, Zuri, Aerovolt, Carbon Engineering, Skyfly and Cranfield Aerospace Solutions,
alongside industry supporters and sponsors, such as BAG, ADS Group, Sustainable
Aviation Coalition and Saudi Airlines.
Commenting on the importance of the event, Sustainable Skies World Summit supporter
Kevin Craven, CEO, ADS Group, said: "Following a successful Farnborough
International Airshow and Aerospace Global Forum in July 2022, it is critical that
momentum in progressing important conversations around sustainability in aerospace and
aviation is not lost.
"Sustainable Skies World Summit will unite global leaders, identify opportunities for UK
businesses in areas such as sustainability and advanced air mobility, and continue the
industry's important collaboration with Government.
"As the sector continues its recovery from the COVID-19 pandemic and trajectory to net
zero by 2050, Sustainable Skies World Summit is the perfect opportunity to reinforce our
industry's ambition and showcase leading innovation in newer, greener, and fuel-efficient
technologies. ADS is proud to be a partner."
Taking place on 17 and 18 April at Farnborough International Exhibition & ConferenceCentre, Sustainable Skies World Summit is free to attend.