Dubai, United Arab Emirates – 7 November 2019: Kingston Technology Europe Co LLP, a world leader in memory products and technology solutions; was recently selected as the winner of the GEC Awards 2019 as a 'Top Innovative Vendor in Enterprise Solution – Data Protection'.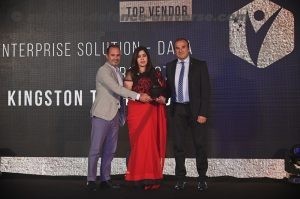 Nominated amongst key industry players in over 50 categories spanning different arenas of progress and innovation; the award winners were selected by a panel of judges experts in their respective fields. Each entry was assessed using three criteria: the company's innovation, in terms of products and solutions; its strategic capacity to create a long-term competitive edge and return on investment; and solutions' adaptability for use along with benefits for the consumers and businesses.
"Innovation, and the ability to do so in a sustained manner and at scale holds the key to the future. The GEC awards play a vital role in acknowledging companies working towards the development of transformative products, with an aim to create new efficiencies. Our innovation team at Kingston is always exploring new opportunities to expand capabilities and determine new technological possibilities that have the potential to transform the UAE security landscape in terms of efficiency, productivity and customer satisfaction." Commented Antoine Harb, Business Development Manager & Team Leader MEA, Kingston.
GEC Awards 2019 are one of the most coveted and prestigious titles in the MEA region, celebrating the milestones of GCC ICT industry that is diverse. Global Enterprise Connect Awards come through as the benchmark for outstanding performances throughout the Middle East and Africa IT industry, where leading players in the ICT domain compete for the winning title.