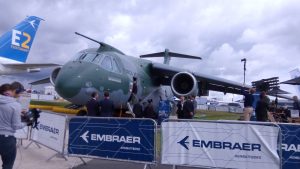 By Sangeeta Saxena
Farnborough, UK. 13 July 2016. KC-390 a feather in Embraer's military aviation cap has attracted major attention on its first showing outside of its home country of Brazil. The first of the two flying prototype aircraft Prototype1 PT-ZNF , with the four flags of the four partner nations in development, has flown from the Embraer facility in São José dos Campos.
It has secured 28 firm orders from the Brazilian Air Force and Letters of intent (LOIs) have also been received from Colombia (12 aircraft), Argentina (6), Chile (6), Portugal (6), and the Czech Republic (2).
The two prototypes have undergone more than 350h of flight testing, during which the twinjet has reached its full flight envelope limits of Mach 0.8 and 36,000ft. After 2,000h of flying it will get a complete certification, which is expected by late 2018. The first production aircraft of 28 ordered by the Brazilian air force will fly in the first half of 2018 and the two prototypes will also be handed over to them.
Paulo Gastao, vice-president KC-390, says, "We have also performed an aerial refueling assessment—hose & drogue extension—"and it's stable. We have not tested actual refueling yet, but cargo airdrop and paratroop initial evaluation have been completed. The aircraft has two doors that can be used for paratroop drops, and it can be refueled from tankers and refuel other aircraft, such as fighters—making it a true "force multiplier."
Embraer has pitched the aircraft as a potential replacement for the C-130 Super Hercules as it is able to carry up to 26t of cargo with a range of around 1,380nm.