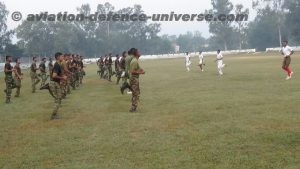 Mizoram. 16 November 2017. Joint Indo-Bangladesh Training Exercise SAMPRITI 2017, which is being conducted at Counter Insurgency & Jungle Warfare School, Vairengte in Mizoram culminated with a validation exercise.
It is the seventh such exercise in the SAMPRITI series. The exercise has been aimed to strengthen and broaden the aspects of interoperability and cooperation between the Indian and Bangladesh Armies. The 13-day long field training exercise commenced on 06 November 2017,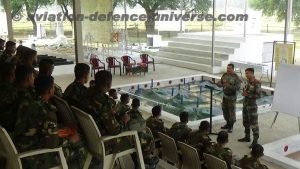 which was culminated with a validation exercise on November 15-16. It was conducted in a progressive manner wherein the participants initially familiarised themselves with each other's organisational structure and tactical drills. Subsequently, the training advanced to various joint tactical exercises by the two Armies.
Scenario of terrorists hiding in a village was painted for the validation exercise. It had commenced with joint briefings by the company commanders of both the Armies. Based on which troops established a cordon of the village. Validation Exercise finally culminated with a daring raid in the jungle terrain to neutralise the terrorists. A spectacular demonstration on room intervention drills was also conducted jointly by Indian and Bangladesh Army troops.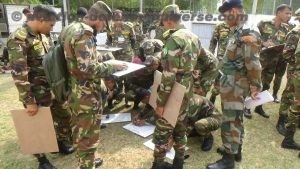 The final exercise was reviewed by Major General Md Moshfequr Rahman of the Bangladesh Army and Major General M S Ghura of the Indian Army. The combined exercise was an unprecedented success. Besides promoting understanding and interoperability between the two Armies, it further helped in strengthening bilateral ties.
As part of training of Bangladesh Army on Counter Insurgency and Counter Terrorism operations under the aegis of Indian Army, The Bihar Regimental Centre, the training was carried out as per the approved training schedule wherein the day started with an intensive schedule of Combat Conditioning w.e.f 0600 hrs. Thereafter, the contingent was introduced into the nuances of sub conventional operations by the head of Indian Army Training Team, Col DD Swain, Training Battalion Commander, Bihar RC, This was followed by a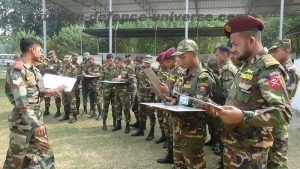 comprehensive introduction into the Indian Map System. As part of survival skills, the contingent was given a detailed insight into the survival skills with specific emphasis on aspects of handling snakes and eventualities of a snake bite incident during carrying out operations in a jungle terrain. The day culminated with a friendly football match between the friendly foreign contingent and the Bihar RC football in which the Commandant of Bihar RC, Brig Manoj Natarajan, SC also participated.