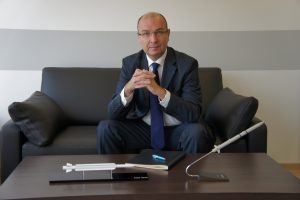 New Delhi. 10 July 2016. Loic Piedevache, MBDA's Country Head based in New Delhi, reiterated , "Of course with India's lower manufacturing cost base we also see great opportunities for cooperation around the global marketing of jointly developed and locally produced missiles and weapon systems ." In an interview with Aviation & Defence Universe(ADU), he reiterated MBDA's commitment to supply best of the missile technologies to India.
ADU. What is the stage of the talks with Indian officials to co-develop and locally produce the fifth generation anti-tank guided missile (ATGM)?
LP. These talks are ongoing and represent a major element of MBDA's long term partnership strategy in India. In 2017 we will be delivering MMP to the French Army which will provide a next generation capability that goes well beyond that provided by weapons such as Javelin and Spike. Our proposal to India revolves around working together to take this technology and adapt it to India's own very specific operational requirements. This of course offers not only the highest levels of transfer of technology but also all the IDDM or indigenously designed, developed and manufactured aspects referred to in the latest DPP guidelines.
ADU. Have you heard something from the government on the co-production of SRSAM?
LP. We are waiting for a green light from the Indian Government concerning this very important project. Important in terms of the operational capability that this weapon will provide, important for India's defence industry and the Modi Government's Make in India strategy and important for Franco-Indian relations. Back in 2006, the French Government gave the go ahead for a level of technology transfer that was totally unprecedented. A 'go' for SRSAM will not only provide India with the very best levels of air defence but it will also provide an extensive cross section of Indian industry, from the large DPSUs right through to the MSMEs, with the kind of complex work that it needs if India is to achieve its combined goals of autonomy and sovereignty in defence. We have identified a network of partners ready to start work, we have agreed the technology so all that is needed is a go ahead, following that and within about three years or so, India could be benefitting from the first deliveries of this new generation weapon.
ADU. How far has MBDA got into forging ties with Indian private sector, keeping in mind the Make-in-India ?
LP. MBDA has long recognised the engineering talent and know how that exits in the dynamic private sector in India and as a result, we have already set up an extensive network of business and industrial partners right across the continent. You should realise that Make in India is not new to MBDA, it has been our strategy and our modus operandi in the country for many years and something that we continue to be totally focused on and committed to.
ADU. Elaborate on MBDA's plan for Indian Navy apart from Scorpene submarines.
LP. MBDA's range of naval air defence and anti-ship guided weapons systems is beyond compare so we are able to offer a large number of solutions with, for example, Exocet MM40 B3 and Marte ER anti-ship weapons featuring in mobile coastal defence systems as well as for deployment from maritime helicopters and patrol aircrafts. At the recent Defexpo exhibition in Goa we displayed the very long range NCM, surface ship and submarine launched naval cruise missile which adds a distinct dissuasive capability to a country's naval forces. In addition SRSAM is still on the table for the Indian Navy.
ADU. What is the development on the VSHORAD front?
LP. We have carried out all the extensive trials demanded by India, these were highly successful and met the various criteria in terms of range and environment that had been set. With Mistral MANPADS we are confident that it is the best solution for the VSHORAD role. It is fire-and-forget which is crucial when dealing with simultaneous in-coming threats, it is very easy to use and of course, in line with India's stipulated operational requirements, it is very light and hence man-portable by a two- man team. I should also add, that beyond the operational advantages offered by MBDA's solution, we are also offering an interesting industrial aspect, namely the manufacture under license of the Mistral missile along the same lines as the longstanding licensing agreement with BDL for the local manufacture of the Milan ATGM missile.
ADU. MBDA has been preparing to conduct Brimstone 2 Missile Test With Apache helicopter in UK. Will they also try it for India?
LP. Brimstone has received major publicity due to its success in operations in Afghanistan, Libya and Iraq. Even the upper echelons of the US military have referred to its invaluable contribution during allied actions and to the fact that it is a capability that the US does not have in its own inventory. Recently, the UK government decided to authorise its use in Syria based on statements both within and outside parliament on its extreme precision and reliability. It is indeed a unique weapon, ideally suited to modern battle requirements, in open terrain or in complex urban environments where collateral damage has to be avoided. The weapon can be launched from various platforms such as fast jets, UCAVs and helicopters and has proven its effectiveness against a wide range of surface targets such as MBTs, fast moving 4x4s, snipers concealed behind walls and even rapidly manoeuvring small naval craft such as FIACs. I don't want to go into details about our discussions with India but for sure, we have made India's armed forces very aware of the advantages that Brimstone offers.
ADU. Do you envisage 'Make in India' as a great opportunity to utilise the research and manufacturing capabilities of India while producing latest missile technologies?
LP. MBDA has viewed Make in India as a great opportunity, long before it became the avowed policy of the current Government. There is a high level of talent and skill in India, some of it yet to be fully tapped, particularly in the very dynamic MSME sector. We plan to make full use of this talent in future cooperation around SRSAM, the fifth generation ATGM project as well as other future potential programmes. Of course with India's lower manufacturing cost base we also see great opportunities for cooperation around the global marketing of jointly developed and locally produced missiles and weapon systems.
ADU. Will offsets alone ensure the fructification of 'Make in India'?
LP. Offsets can go only so far. Of course they are very important in providing work to India's defence industry supply chain and go some way towards supporting further investment to allow for growth. However, offsets as I'm sure you are aware, often involve low level technology, and this will not provide the necessary basis for Make in India to be a success. There is a lot of high level skill and know how ready to be exploited in India, but for this to flourish and express itself, it needs to be working on the latest and next technology challenges. That is why SRSAM and the fifth generation ATGM projects we have been discussing are so important. Not only do these involve the transfer of the very latest technologies, they also involve working in partnership with Indian industry to push the technology boundaries even further. MBDA is financing a number of Indian students through their studies at ISAE in Toulouse, France, one of Europe's top universities for aeronautical engineers where they will be graduating with a globally recognised master's degree. These highly qualified people, young Indian men and women, will be returning to India to work on technologies and future projects that will help India build an industry in aeronautics and perhaps defence that can compete with the best in the world.