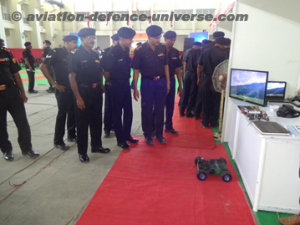 New Delhi. 30 September 2019. Johnnette Technologies Private Limited exhibited their products at Sapta Shakti Wartech, Hisar Military station, Haryana on 25th and 26th of September 2019.
The purpose of the event was to synchronize & orient the defence production industry with the felt needs of the Indian Army as also to acquaint the Indian Army with the capabilities of the Indian Defence Industry, under the 'Make in India' initiative. This exhibition was also part of the Indian Army's outreach program to facilitate the development of the defence industry and align it with the 'Make in India' initiative. Indian Industry from Large to MSMEs to start up level are encouraged to participate in the exhibition. The GOC-in-South was the chief guest at this event. There was a great response from the Soldiers and Officers of the Indian army who were present at the expo.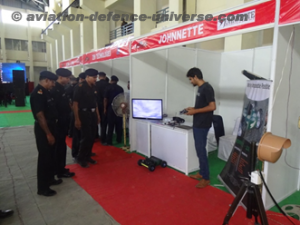 Johnnette Technologies exhibited products like JOBOT 2-A, a semi-autonomous unmanned ground system that revolutionizes the effectiveness and utility of perimeter security and represents a long awaited breakthrough in combat applications such as force protection, route proving, combat logistics support and more. The JOBOT 2A complies with ongoing military and industry standards, for which it was exhaustively trailed over thousands of operational hours, an inclusive solution comprising the vehicle of a command and control application, a customer tailored communication system and modular selection of payloads, JF-2, A fixed-wing Unmanned Aerial Vehicle which is designed to be rugged and can be used in any terrain.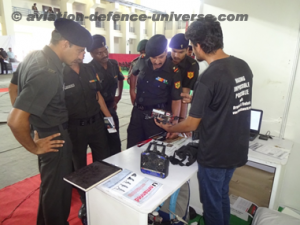 The airframe is made up of expanded polypropylene which has a higher elasticity and further reinforced with carbon fiber spars thereby enabling the airframe to take repeated impacts without any damage making it crash resistant, A lightweight, hand-launched solution designed for rapid deployment and high mobility and JS-1 a sports drone which is weighs approximately 700 gms and can clock speed upto 120 kmph. The Officers and Jawan's of the Indian army had many queries about the products and their functions that would be beneficial to the Indian defence forces which were answered with great enthusiasm by the technical team of Johnnette technologies.