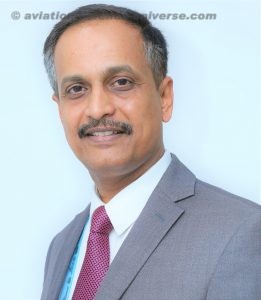 New Delhi. 13 June 2021. Safran Helicopter Engines has appointed Jetendra S Gavankar as Managing Director of Safran Helicopter Engines India PVT LTD, succeeding Satish Kirtikar who is retiring. Jetendra will lead the company's business in India and will be responsible for its strategic partnerships across the market and with Hindustan Aeronautics Limited (HAL) in particular.
Jetendra's experience ranges from product development and core R&D to integration, upgrades, strategy and business development. For 25 years he served in the Indian Air Force (retiring as a Group Captain). He was Deputy Project Director at the Defence Research and Development Organisation (DRDO) and helped establish the Defence & Aerospace business for Adani Group. Most recently he was working as Director Engineering at Honeywell Technologies & Systems in Bangalore.
Jetendra Gavankar (51) is a graduate of the Air Force Technical College, BITS-Pilani and IIM-Ahemdabad.
Sébastien Jaulerry, Safran Helicopter Engines EVP, Support and Services, commented, "I am pleased to welcome Jetendra to our team". Florent Chauvancy, Safran Helicopter Engines EVP, OEM Sales, added, "Jetendra joins us during extremely challenging times. Under his leadership, Safran Helicopter Engines will expand decades-long relationships with all its partners in India, consistent with the "Atmanirbhar Bharat" vision of Prime Minister Narendra Modi."
Safran Helicopter Engines India is based in Bangalore and is fully dedicated to supporting the company's Indian customers, notably the Indian Armed Forces and Coast Guard. Its strategy is built around a longstanding cooperation with HAL and the Ardiden 1H1 engine, co-developed by the two companies and now in production under the 'Shakti' designation. It powers HAL's Dhruv and Light Combat Helicopter and more than 250 units are in service. Safran Helicopter Engines supplies engines to all new-generation HAL rotorcraft. The Ardiden 1U is an increased power derivative of the 1,400 shp Ardiden, certified in 2019 and destined for the LUH (Light Utility Helicopter).
With more than 65 years' experience working in its core aerospace and defense markets, Safran has a longstanding presence in India. The Group is committed to remaining a fully-fledged technology partner in these sectors, predominately as a supplier of engines and/or equipment and support services for airplanes and helicopters. With more than 1,500 units in service, Safran is the leading supplier of turboshaft engines to Indian Armed Forces helicopters.