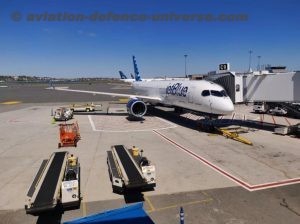 Boston. 26 April 2021. Pratt & Whitney along with JetBlue Airways ("JetBlue") celebrated the entry into service of the airline's first A220 aircraft which is powered by Pratt & Whitney GTF™ engines. The event was commemorated with a gate ceremony at Boston Logan International Airport, attended by representatives from JetBlue, Airbus and Pratt & Whitney, after which the plane departed for Tampa International Airport.
"We are thrilled to introduce our first A220 aircraft to our customers and offer them a quieter, more sustainable flight experience. The A220 with GTF engines represents the future of our fleet, with unmatched fuel efficiency, low emissions and industry-leading passenger comfort," said Ursula Hurley, head of treasury and investor relations, JetBlue. "Pratt & Whitney has been there for us since the very beginning and we look forward to continuing our strong relationship."
JetBlue ordered 60 Airbus A220-300 aircraft in 2018 and later expanded the order to 70 aircraft in 2019. The airline has also ordered 85 GTF-powered A320neo family aircraft, including 13 A321LR and 13 A321XLR aircraft. The airline currently operates 16 of the A321neo variant powered by GTF engines, 193 A320ceo family aircraft powered by V2500® engines, and 60 Embraer E190 aircraft equipped with the APS2300E auxiliary power unit (APU).
"The entry into service of the GTF-powered A220 for JetBlue is a milestone moment. Pratt & Whitney and JetBlue have collaborated closely since the airline's first flight in 2000. We are honored that JetBlue is confident that GTF's game-changing technology will provide true value for their next-generation fleets," said Rick Deurloo, chief commercial officer and senior vice president at Pratt & Whitney. "We're honored to be a part of this momentous milestone and we look forward to supporting JetBlue's expansion and their commitment to sustainable aviation."
The A220, powered exclusively by GTF engines, offers significantly lower operating costs compared to previous generation aircraft. The engines deliver double-digit improvements in fuel and carbon emissions. They also provide a 75% reduction in noise footprint, based on a 75 dB noise contour, and produce NOx emissions 50% below the International Civil Aviation Organization (ICAO) CAEP/6 regulation